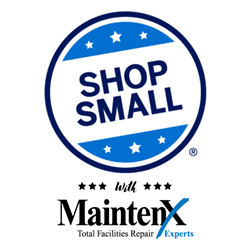 MaintenX work together with small businesses to create custom preventative maintenance plans that address their specific needs while reducing negative impacts.
TAMPA, Fla. (PRWEB) November 25, 2019
After enjoying a feast on Thanksgiving day and finding the best deals on Black Friday at the mall, shoppers across the U.S. turn their attention to the small, independent businesses that bring one-of-a-kind items and services to their communities. MaintenX International, one of the nation's largest providers of self-performing facility maintenance, knows that small businesses have unique needs compared to their big-box counterparts and is ready to provide individualized service plans to keep their facilities in top shape.
"The Saturday after Thanksgiving is a great time to explore the brick-and-mortar stores that are in your local community," said Bill Schaphorst, MaintenX's VP of Business Development. "Small-business clients will not have facilities staff and being forced to close their business for repairs can significantly impact their bottom line. We work together with small businesses to create custom preventative maintenance plans that address their specific needs while reducing negative impacts."
MaintenX takes pride in their ability to customize maintenance for each customer. For example, a smaller, independently run retail facility may benefit greatly from scheduled preventative maintenance on systems like plumbing, HVAC, and roofing. These are three major elements of a business, that if left unattended, can cause serious, disruptive and expensive damage.
Preventative maintenance minimizes the risk of costly breakdowns and downtime caused by facility equipment and system malfunctions. MaintenX works with every business to devise a tailored plan for each facility and budget, then executes inspections and fixes as necessary. While performing preventative maintenance to reduce unexpected issues is important all year round, it is particularly critical during the busy holiday shopping season.
MaintenX prides itself on using self-managing work orders that place complete control of the maintenance project in the hands of the client, which can provide an extra sense of security for small business owners. Every MaintenX technician is equipped with the physical and mental tools needed to complete tasks with speed and efficiency, with a focus on customer satisfaction and safety.
Small Business Saturday was started in 2010 as a way to celebrate the smaller businesses that may be overlooked during other major holiday shopping days like Black Friday and Cyber Monday. It's an excellent reason for shoppers to support independent companies in addition to big box stores and e-commerce platforms.
For more than 40 years, businesses of all sizes have trusted MaintenX to perform the preventative and reactive maintenance services that keep their facilities in top shape. To learn more about how MaintenX's Super Service Team can address your business' maintenance needs, visit http://www.maintenx.com.
ABOUT MAINTENX INTERNATIONAL:
MaintenX International is a fully-licensed, facilities repair company. They are one of the largest national self-performing facility maintenance and repair companies in the U.S. MaintenX has created a network of knowledgeable and professional technicians throughout the country. With their team of well-trained technicians, MaintenX self-performs and manages facility maintenance for clients. In the event there is not a MaintenX technician in the area, the company has fostered a network of preferred vendor partners throughout the country to provide superior service for their clients. For more than 40 years, MaintenX has been expertly serving multi-location retail stores, restaurant chains, and Fortune 500 companies nationwide.