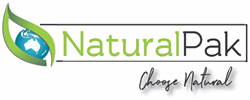 Environmental change is something that we, as a nation, need to tackle together
WAGGA WAGGA, Australia (PRWEB) July 15, 2020
Australian owned and operated Bee Dee Bags Pty Ltd is reaching for new heights with the launch of NaturalPak, a new player in the world of environmentally friendly, compostable and sustainable food packaging industry. NaturalPak was established in 2019 and has been in development and finally officially launched on the 9th of June 2020.
Bee Dee Bags believes NaturalPak will be able to assist Australian businesses in the fast food and take-away industry to transition to products that are an alternative to non-recyclable single use plastic food packaging and join the movement to make our world a better place to live in.
NaturalPak's select range of compostable packaging products is ethically sourced from managed plantations of sustainably grown trees (FSC), made from rapidly-renewable plant resources (PLA) and sugarcane pulp. NaturalPak's range was carefully selected to ensure that products are not only environmentally friendly but also durable, strong and industry tested to make sure that the range is not just keeping the planet clean, but is a functional, convenient and an economic choice for each and every business in the takeaway food industry.
The General Manager of Bee Dee Bags and Creator of NaturalPak, Mr Cain Gawne expressed his vision for the company: "We are committed to increasing awareness of the opportunities each and every one of us can take by choosing Natural. Bee Dee Bags has been in a prime position to witness the adverse impact that fossil fuel made single use packaging is causing to our environment, and we just had to be part of a solution. We want to drive change in food packaging and transition towards a circular economy. The takeaway food lifestyle is growing and growing and so too is the eco-conscious customer. So, we have introduced a range of food packaging products that will provide a positive impact on humanity, by using materials that are certified and made from renewable plant resources. Since 1974 our partner company Bee Dee Bags has made its mark on the world of retail packing specialising is custom printing and design. NaturalPak's aim is to bring the same sales expertise along with our knowledge of the packaging industry to the world of single use food packaging and give each and every business the same opportunity to experience the power of branding without sacrificing our environment."
NaturalPak has initially teamed up with some well-known brands in the food packaging industry, such as BioPak, to work as part of a collective team to advocate for environmental and sustainability change for the fast food industry. When asked about his decision to team up with other suppliers and distributors, Mr Gawne explained that: "Environmental change is something that we, as a nation, need to tackle together. If we can find a way to work together and unite for the sake of our environment and creating a world that we would all be proud to leave for our children, then I think we can make a significant impact and advocate for real change in the food industry."