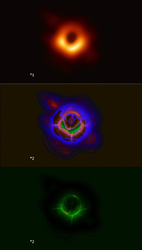 "Space imagery has always been exciting for us because we tend to reveal interesting things that help aid our space pioneers in their discovery processes." -Dr. Tim Naddy, founder and CEO of BakerSCI
ROME, Ga. (PRWEB) April 16, 2019
The moment the Event Horizon Telescope Collaboration (EHT) refocused the world's attention on the heavens with their image of a black hole in the M87 galaxy, the innovative Rome, Georgia-based team at Baker Street Scientific (http://www.bakersci.com) quickly deployed an array of proprietary algorithms and processes exposing and discovering unknowns inside the cosmic giant. Their results, processed in a matter of seconds on a laptop (while sitting in Colorado Springs' Broadmoor Hotel lobby), were so surprising they were compelled to share two of their many images with the greater space and science communities.
One would expect such revelations to come from Silicon Valley, Boston or Austin. Not anymore. It's this kind of novel science and processing efficiency that has this small-town American start-up turning the heads of industry giants, government agencies and scientific organizations.
Over the past five years BakerSCI's forensic technology has been disrupting conversations in healthcare, energy, financial, military and intelligence communities: consistently revealing previously indiscernible data behaviors, features and events in land, sea, air, space, human tissue, and more. Industry captains and global thought-leaders are appreciating anew the power in their own data and finding answers to long sought-after questions. According to Admiral Tom Zelibor, CEO of the Space Foundation, "BakerSCI represents a new wave of small American companies rapidly innovating and deploying new science and technologies that are coming alongside the traditional players. They are providing critical mission and research support that allows us to engage in even more ambitious space pursuits."
Coming off a fast-paced week at the Space Foundation's 35th Annual Space Symposium where BakerSCI presented at NASA iTech's "Ignite the Night" (as one of their top ten innovators), Dr. Tim Naddy, BakerSCI Founder and CEO, described his team's excitement at their latest discovery, "Our forensic technology is unique in that it consistently reveals information within data that no one expects. By the handful of conversations we've had over the past couple of days it appears our latest results will not disappoint."
Is it a black hole? A space "corridor"? A wormhole? Perhaps a string or fold in space itself? Maybe remnants of stars or planets trapped in its unyielding grasp? Not sure yet, but in the words of one retired General to BakerSCI, "Keep those bags packed! Always thought there had to be something in there, even if [it was] just the bones of all that was devoured."
With Earth Day rapidly approaching (April 22nd) Dr. Naddy commented, "EHT showed the world how a selfless global science community can accomplish great feats to take that next step for our global citizenry. That's the kind of cooperative community that will take us further and BakerSCI is excited to be a part of it. What a great time for scientists, academics and the casual stargazer to engage in intelligent debate." Visit http://www.bakersci.com/industries/space/ to view images and join the conversation.
About Baker Street Scientific
Baker Street Scientific is a data and intelligence science and technology (S&T) company headquartered in Rome, Georgia. For more information please contact press(at)bakersci.com. We also invite you to visit us at http://www.twitter.com/BakerSCI or https://www.linkedin.com/company/baker-street-scientific/about/ .