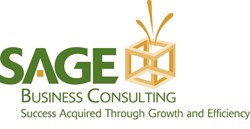 According to CEO Nancy Clauss: "We never stop learning and growing and pay it forward as often as we can as part of our company mission."
Anaheim Hills, CA (PRWEB) August 30, 2013
SAGE Business Consulting, an Orange County CA small business consulting firm, celebrates 5 years in business. Since its founding in the summer of 2008, SAGE Business Consulting has delivered a full complement of consulting services aimed at supporting entrepreneurs on their path to success. SAGE offers guidance in business planning, leadership development, organization, systems, marketing and sales. SAGE clients include all types of construction fields, field service industries, manufacturing, service businesses and more.
According to Owner and CEO Nancy Clauss: "The last five years have been the toughest business climate that most of us have ever experienced. The fact that SAGE has succeeded during a time when many companies have failed can be attributed to a couple of key points: We treat every business and their owner as a unique individual and create a custom growth plan just for them based on their current business, vision for the future, personality and life goals. We are small business owners ourselves so we understand the challenges and opportunities facing all entrepreneurs in the market today."
"In addition, small business marketing has changed completely over the last few years due to the influence of web and social media. Our coaching practices and methods have changed accordingly. We offer practical consulting and marketing services that business owners can use today to sell their products and services over the World Wide Web. Like our clients we never stop learning and growing and pay it forward as often as we can as part of our company mission."
Over the last five years, SAGE Business Consulting has enjoyed a track record of success by helping scores of companies experience explosive growth. Those wanting more information about SAGE methods and practices can contact Nancy Clauss at 714-225-9981
About Sage Business Consulting, Inc.
SAGE Business Consulting was created to help small business owners significantly improve their businesses, make more profit and love their lives. Sage believes small businesses are the lifeblood of the economy and entrepreneurs are the heroes of the business world.
At SAGE Business Consulting, their mission is to empower entrepreneurs with information, training, and support so that small businesses can grow and run smoothly. SAGE Business Consulting helps companies achieve their goals by working with owners and their teams in the areas of leadership, operations, business development and marketing.
These enhanced organizational and leadership skills allow principles to enjoy their entrepreneurial creations and experience the success and freedom they desire. SAGE Business consulting is the sounding board, direction, and support system taking companies from stagnant to growing and profitable.
For weekly business development articles and information, sign up for the SAGE newsletter here.