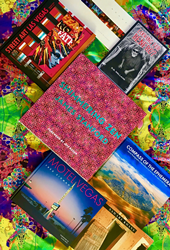 "The temptation is always to think of Las Vegas as a gambling mecca, the 'Entertainment Capital of the World'. Well, it's that. But, it's a lot more than that as well."― James Stanford
LAS VEGAS (PRWEB) September 10, 2019
Since its founding 114 years ago, Las Vegas has grown from a dusty railroad water stop between Salt Lake City and Los Angeles to a major desert metropolis. Home to over 2 million people in the greater metropolitan area, this vibrant city has become the worlds entertainment capital. Not just the city host the most resort casinos concentrated in one area, but its also hosts world renowned shows, sporting events and has one of the fastest growing cultural arts scene in the region.
Thanks to its rapidly expanding arts scene Las Vegas now is home to the Smith Center for the Performing Arts, The National Museum of Organized Crime and Law Enforcement, also known as the MOB Museum, The Neon Museum, the National Atomic Testing Museum and dozens of arts related non-profits and world renowned private art collections. Though Las Vegas has always had a cultural arts scene its development today is thanks to a dedicated cohort of arts enthusiasts and supporters that have added to the community's cultural narrative.
Founded by James Stanford, a Las Vegas native, artist, entrepreneur and stalwart supporter of the cultural arts, Smallworks Press was created to publish fine books on the subjects of fine art, culture, poetry and Zen Buddhism. These publications greatly enhance the city's cultural offerings in a beautiful and tangible way for people around the world to better understand Las Vegas and the people who call this city home.
Titles currently available through IPG Distribution -

Shimmering Zen - James Stanford (2017)
ISBN 0-9778806-7-2

Street Art Las Vegas - William Shea & Patrick Lai (2019)
ISBN 13: 978-0-977880690

Motel Vegas - Fred Sigman (2019)
ISBN 13: 978-0-977880683

Compass of the Ephemeral: Aerial Photography of Black Rock City through the Lens of Will Roger - Will Roger (2019)
ISBN 13: 978-0-9778806-5-2

Nawari Koans: The Wumenguan as interpreted by Robert J. Fitzwater (2007)
ISBN 0-9778806-1-3