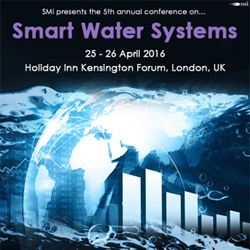 London (PRWEB UK) 1 February 2016
New research from the University of Southampton shows that Southern Water's pioneering metering programme has had a significant impact on water consumption – a 16.5% reduction compared with the national average of 10%. With nearly 500,000 meters installed, customers are using, on average, 60 litres per household per day less water. When the metering programme ends, this will equate to a regional saving of 30 million litres of water every day across Kent, Sussex and Hampshire - enough to meet the daily water needs of towns the size of Hastings and Worthing combined. The reduction in demand has also had an impact on customers' bills. To date, 62 per cent of metered households are saving, on average, £162 a year.
(Source: WaterBriefing, 27 February 2015, 'Southern Water metering delivers massive 16.5% reduction in water use ')
Against this backdrop, SMi is proud to announce that Penny Hodge, Head of Policy and Stakeholder Engagement at Southern Water, will be sharing a case study on Day Two at 09:50 titled 'Universal Metering Programme – more than just the meters'. Her presentation will cover the following key points:

How Southern Water delivered the first large-scale compulsory metering programme in the UK
The role that customer and stakeholder engagement played in the programme
The package of measures that supported the programme and delivered for customers
The 5th annual Smart Water Systems conference will provide a timely platform to discover how water companies are benefiting from smart water technology, with the short and long-term gains discussed. The two-day programme will feature an array of case studies which will detail the results and progress made from some of the largest UK and European smart water system roll-outs. Furthermore, special focus will be provided on how we can locate and extract meaningful information from the big data generated and first-hand accounts will be shared on how this information can be used to produce significant environmental, social and economic advantage.
Speaker Panel includes:

Danny Leamon, Head of Metering, Thames Water
Penny Hodge, Head of Policy and Stakeholder Engagement, Southern Water
Marcello Bondesan, Head of Energy Engineering Department, Operations, HERA
Mike Bishop, Head of Operational Control and Development, Dwr Cymru Welsh Water
Georgina Mills, Delivery Director, Ofwat
Andrew Smith, Regional Optimisation Manager, Anglian Water
Neil Harper, Metering Strategy Manager, United Utilities
Katy Walker, Water Network, Leakage and Metering Strategy Manager, Yorkshire Water
To view the full speaker line-up and conference programme, visit http://www.smart-water-systems.com/prweb
Plus, don't miss the interactive post-conference workshop taking place on 27th April 2016:
Delivering behavioural interventions through field experiments
Led by: Daniel White, Co-Founder, Avalon Behaviour Ventures