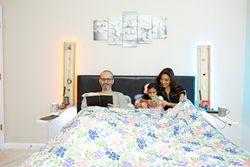 Get rid of old side tables and back side strain
ATLANTA (PRWEB) February 20, 2019
A uniquely designed Product for smarter and spacious bedrooms, it will replace your old side tables. Smart Bed Arm, Now Available on IndieGoGo.com
Smart bed Arm is a wall mounted and fold-able side table with various useful features. When it is open you can use it as table and when it is closed it looks like a wall art. That you can decorate as per your own style. Smart bed Arm also comes with multiple slots for holding your phones and tablet. So you can place your phone in the slot and can have easy view while sliding in your comforter. Smart Bed Arm have slot to charge 4 devices at the same time. It also comes with a wireless charger and space to store your keys and small accessories like earphones, ear plugs etc.
You do not need your night lamp, as Smart Bed Arm comes with Led lighting which is controlled by phone App. So you can set the bedroom mood they way you like. Also it comes with a puck light, you can turn on and off with a tap.
In addition to making your bedroom more spacious, users will also enjoy saving both time and money – avoid paying for visits to Chiropractor and Physio for the side strain, they can get while reaching out to TV remotes or bottles from the side tables.
Most backaches and strains are caused by wrong Posture and Daily Activities, especially the activities that require bending over, such as picking up TV remote, cups, bottles or other stuff from a side table, while sitting on the bed. Which may lead to decreased blood flow to the neck, side muscles and causing tightness and discomfort in affect area, especially in the old age.
We developed a series of videos that illustrate the useful features of Smart Bed Arm.
For more information about Smart Bed Arm, or to take advantage of discounted pricing during crowdfunding,
please visit the Smart Bed Arm campaign page on IndieGoGo.com.