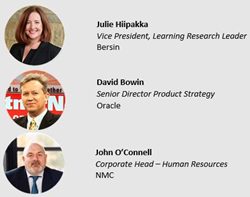 PLEASANTON, Calif. (PRWEB) August 06, 2019
Smart ERP Solutions, Inc. (SmartERP), a leading provider of Enterprise Business Applications solutions and services, will co-present a complimentary Human Capital Management (HCM) Digital Leadership webinar series with Bersin, Oracle and client NMC. Interested parties can register here and will only have to register one time for all three webinars.
The first webinar on August 8, 2019 - 11AM PST, will be presented by Julie Hiipakka, Vice President Learning Research Leader at Bersin, Deloitte Consulting LLP. Hiipakka will discuss current and future HCM trends and challenges along with providing insight on how technology has a significant impact on an organization. Topics will include trends in recruiting, learning and development, and analytics and how social, mobile and cloud technologies support these trends.
The second in the series, Moving Your HR to Oracle Cloud, will be presented by David Bowin, Senior Director Product Strategy at Oracle, on August 20, 11AMPST. Bowin will present the features and benefits of moving an organization's HRIS to an Oracle HCM Cloud Solution.
Webinar summary:

Gain clarity on what Oracle HCM Cloud is and isn't
Gain insight and learn the right questions to ask before moving to HCM Cloud
Define and refine your HCM Cloud migration strategy
The third in the three-part series will bring the first two webinars together with a client case study from John O'Connell, Corporate Head – Human Resources NMC Healthcare. SmartERP assisted NMC with their HCM ERP transition by transforming their entire 10,000 employee business from the on-premise Oracle Enterprise Business Solution (EBS) to Oracle HCM Cloud. John will provide fist-hand insight on his business pain points prior to the transition, the HCM Cloud Solution SmartERP implemented, the business benefits and lessons learned from the Oracle HCM Cloud migration and implementation project.
Register today at HCM Digital Leadership Webinar Series.
About Smart ERP Solutions, Inc.
Founded by Oracle/PeopleSoft veterans, Smart ERP Solutions®, Inc. is a unique organization in the Enterprise Business Applications space providing innovative, cost-effective, and configurable on premise and cloud solutions and services that efficiently extend the capabilities of ERP systems to meet specific business process needs. The organization's Smart Onboarding, Smart I-9/ E-Verify solution integrates with popular HR systems to automate new hire onboarding and the employment eligibility verification process. Smart ERP Solutions enables clients to seamlessly integrate their people, processes, applications, and data, across an enterprise, enabling the organization to streamline its operations and support business growth.
About Bersin
Bersin delivers research-based people strategies designed to help leaders drive exceptional business performance and is the indispensable digital destination for the HR professional. Bersin helps organizations build capability, community, credibility, stay informed and supplies insights on workforce issues. Bersin's membership delivers research-based people strategies and HR services designed to help leaders drive exceptional business performance.
About Oracle
The Oracle Cloud offers a complete suite of integrated applications for Sales, Service, Marketing, Human Resources, Finance, Supply Chain and Manufacturing, plus Highly Automated and Secure Generation 2 Infrastructure featuring the Oracle Autonomous Database.
About NMC
NMC Healthcare is the largest private healthcare company in the UAE and ranks amongst the leading fertility service providers in the world. Over the last 46 years, NMC has earned the trust of millions, thanks to its personalized care, genuine concern and a sincere commitment to the overall well-being of the patient.