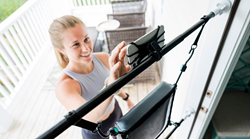 Quiet Punch aims to be the name for at-home boxing fitness.
STROUDSBURG, Pa. (PRWEB) November 15, 2021
Quiet Punch is a smart doorway punching bag that tracks punches with a proprietary sensor. Created in 2018, Quiet Punch, was developed for people to practice boxing combinations and get a high intensity workout from the comfort and potentially limited space of their homes. Three years later the quickly growing community of tech connected punchers average 1.5 million punches a month.
Quiet Punch reached two major landmarks in 2021; the $3M mark in sales and 30M punches. In three years the company growth has increased in revenue and membership by 400%. Quiet Punch is on track to double all areas of their business in 2022.
"The at-home fitness category is finally being recognized as a major growth market and not just a trend," Founder Brian Pedone said in a statement. "I have always believed that boxing should be accessible to all. The swift momentum of customers coming to Quiet Punch has been extremely validating. The passion that our users are showing for boxing reflects the current boom in both home fitness and the sport itself, and we are proud to be only smart doorway boxing product. We aim to be the name for at-home boxing fitness."
The Quiet Punch brand is a subsidiary of Boxing For All and plans to expand its reach to Europe in 2022. Also, ahead for the fast growing company is a new app release with enhanced features, additions to their product line including a heavy bag sensor, and new online training capabilities. To learn more about Quiet Punch you can visit http://www.quietpunch.com.