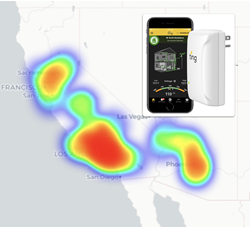 Not only does Ting help prevent electrical fires in the home, but in aggregate Ting-protected homes provide insights into the electrical grid with amazing detail.
GERMANTOWN, Md. (PRWEB) May 04, 2021
Whisker Labs has announced an important milestone in helping protect homes and communities from devastating fires. Last summer, Whisker Labs helped launch a significant distribution program in partnership with State Farm Insurance. Eligible State Farm homeowner policyholders in Arizona, California, and Texas received Ting for free by simply enrolling online. Forty thousand homes later, the program has resulted in numerous success stories and, in many cases, fire loss prevention.
Aging structures, grid complexity, and access to electricity by 6.2B people have made both electrical fire prevention and grid resiliency rising global concerns. Ting brings a level of visibility to incipient electrical fault conditions never before possible. Ting monitors the electrical network of a home using a smart plug-in sensor to help detect hidden hazards before they have a chance to ignite a fire. These devastating home fires can start silently from faulty wiring, electrical system components, and common household devices. At the same time, Ting also serves an equally important purpose: enabling a safer and more resilient community.
Bob Marshall, Whisker Labs' Co-Founder and CEO, states, "Not only does Ting help prevent electrical fires in the home but in aggregate Ting-protected homes provide insights into the electrical grid with amazing detail. We're thrilled to see that Ting is exceeding expectations on both fronts."
Some electrical hazards within a home directly stem from power quality problems on the local electric utility grid. Yet, this type of issue is normally outside a homeowner's control. Fortunately for Ting customers and their neighbors, these electrical distribution problems are identified with incredible clarity. Ting renders each discovery actionable with real information, facilitating an expedient and precise repair. In 2021 alone, Ting has pinpointed hundreds of fire hazards on the utility side of the meter. These problems were directly impacting a homeowner, and in many cases, their neighbors. Beyond helping prevent home fires, Ting's identification of concerning grid activity holds even greater promise as a key resource in the fight against wildfire ignitions in arid western climates.
Marshall and the team have decades of experience with sensors and intelligent networks. He added, "Almost everything we do today relies on access to clean and reliable power. The Ting network enables communities to monitor their utility grid's quality and resiliency independently and inform utilities with actionable information to ensure safe and quality power delivery. Similar to video doorbells contributing to neighborhood awareness or school weather stations helping inform local forecasts, each additional Ting-protected home helps provide much-needed visibility into the grid's health in real-time."
ABOUT WHISKER LABS
At Whisker Labs, our passion lies in creating smarter solutions to hard problems. Better electrical fire prevention is one of them. Winner of 2021 Best of the Smart Home Awards - Best Use of Machine Learning Category, Ting unlocks incredible insights into electrical anomalies in very fine detail, in real-time, from a single intelligent sensor. Ting is DIY and plugs into any outlet and takes 2 minutes to install. Detecting tiny signals generated by hidden electrical fire hazards within a home, Ting also monitors the quality of power delivered by electric utilities, identifying utility grid faults that can induce fires, damage appliances, and create electrocution risks inside the home. These same faults can also serve as an ignition source for devastating wildfires, similar to those occurring in central and western states in recent years. Ting's unprecedented track record leads a new wave of safety technology with broad appeal and numerous prospective applications.