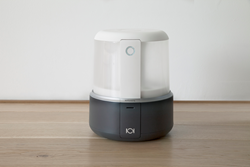 NOTA NOTA will give people an easy way to design and produce their own perfume that speaks to their style.
United Arab Emirates (PRWEB) October 17, 2018
Today, NOTA NOTA launches its campaign for a sleek, smart mixing machine that perfectly blends scents to create a customized, unique perfume. As a 'smart' mixing machine, NOTA NOTA can be controlled using a mobile app, which also acts as a social network platform, allowing users to exchange recipes with other perfumers.
The NOTA NOTA machine produces 5mL of liquid perfume within 60 seconds, no labor required, right on a countertop. This innovative new product accommodates up to eight scents at a time, so users have the ability to achieve an incredibly wide variety of fragrances to suit any occasion.
"I was thinking about 3D printing when I found a perfume I liked. It was then that the the idea of combining these two concepts together came to me," said NOTA NOTA Creator Abdullah Bahabri. "NOTA NOTA will give people an easy way to design and produce their own perfume that speaks to their style. With NOTA NOTA, you can reach people looking for new perfume experiences, and it's easy to use with less equipment and less mess."
Perfumes and colognes consist of different notes, which determine the overall scent. Picking the right scent comes down to two main factors: preferences and a body's chemistry. With NOTA NOTA, users will have the option to mix partly natural scents including bergamot, jasmine, magnolia, taif rose, moss, vanilla, sandalwood, marine and musk. To see if a perfume is a fit, users choose which types of notes they prefer and then test the types of scents on their skin, letting them sit for 10 to 15 minutes.
Combining up to 12 scents, NOTA NOTA fragrance bottles hold up to 5mL of perfume, and the NOTA NOTA app is iOS and Android compatible.
NOTA NOTA is currently available for pre-order for $399 on Indiegogo. For more information or to pre-order, visit pr.go2.fund/nota.
About NOTA NOTA
NOTA NOTA is an intelligent device that specializes in the manufacturing, innovation and preparation of household perfumes. For more information, visit http://nota-nota.com/en.