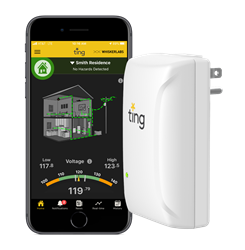 GERMANTOWN, Md. (PRWEB) February 19, 2021
As Texans battle through the impact of extreme weather and electric utility grid power outages, an innovative smart home sensor is documenting the all too real power issues while also helping reduce the risk of home fires.
Over 10,000 homeowners in Texas have the added protection of Ting for their family and home. Ting oversees a home's electrical network to detect faults that can lead to a fire inside a house and also detects faults on the utility grid that often cause power outages and, in some cases, ignite a fire inside or outside the home. Developed by Whisker Labs, Ting documented a sharp increase in home electrical fire hazards over the past several days across this virtual community of Ting sensors.
The extended reliance on space heaters, heating blankets, and other devices for warmth stresses both the home electrical system and the utility grid. These devices often use significant power, which can lead to increased fire risk. Sometimes a home electrical network is ill-prepared to handle an increased demand of this nature, leading to hazardous arcing - sometimes hidden in walls - that can lead to an electrical fire. In other cases, a device is not plugged in or connected correctly or is itself faulty due to age, wear, or poor design.
"Our Fire Safety Team has been working extensively with homeowners across Texas to mitigate these hazards," says Robert Marshall, Whisker Labs' CEO. "Our thoughts are with everyone impacted by this severe weather and related utility grid events."
With the same accuracy applied inside the home, Ting documented the Texas utility grid's challenges in real-time. Each sensor detected the measured increase in grid events - power surges, brownouts, and outages. This video shows the utility grid events recorded by Ting in real-time over the past several days. Real-time correlation reveals power plant failures and rolling blackouts, preceded by surges and brownouts as the grid copes with heightened demand and weather-related stress. Not surprisingly, some of the detected events were grid faults that likely produced arcing and sparking hazards in local communities as ice and tree limbs wreaked havoc on power lines. This real-time capability heightens situational awareness and response precision for utilities.
"We're grateful for the opportunity to help protect homes and families across Texas and to help utilities in their efforts to keep the grid safe and operational. We wish all Texans well in this challenging time," added Marshall.
ABOUT WHISKER LABS
Our passion lies in creating smarter solutions to hard problems. Better electrical fire prevention is one of them. A challenge for well over a century, we've unlocked incredible insights into electrical anomalies in very fine detail, in real-time, from a single intelligent sensor. We've packaged this into Ting, the next wave in fire prevention technology. Ting is DIY and plugs into any outlet, and the homeowner, in 2 simple steps, activates it. Ting's principal purpose is monitoring a home's electrical network for electrical hazards that often lead to the most devastating type of home fire. Still, Ting serves an expanding role as a fitness tracker for the home, smartly monitoring and alerting homeowners to meaningful events that impact everyday life. Beyond electrical health inside the home, Ting monitors the quality of power delivered by electric utilities, identifying utility grid faults that once inside the house can induce fires, damage appliances, and create electrocution risks. These same faults can also serve as an ignition source for devastating wildfires, similar to those occurring in central and western states in recent years. Ting's unprecedented track record leads a new wave of safety technology with broad appeal and multiple prospective applications. For more information, please visit http://www.tingfire.com.