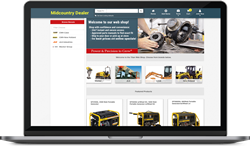 Our current SmartEquip site is light years ahead of where we started. Our customers find it user friendly and very accurate to reduce mistakes in the ordering process.
NORWALK, Conn. (PRWEB) February 07, 2020
SmartEquip, Inc. (SmartEquip), a leading provider of software used to support equipment life cycle management, announced today the launch of their newest solution: SmartEquip e-Commerce. This solution offers manufacturers and authorized distributors one easy-to-use platform for their customers to access content and complete transactions to minimize cost of ownership.
"It's time to advance the digital marketplace for the construction industry. By offering a customer-centric, tech-driven solution like SmartEquip e-Commerce, we can increase our customer's online presence, while preserving the integrity of their business channels," said Fernando Pinera, CEO of SmartEquip. He adds, "It is our mission to continue to pave the way for digitalization by offering custom solutions that meet our customers current and future needs. The technology disruption is here, and we have a simple and effective e-Commerce product to facilitate that evolvement."
SmartEquip e-Commerce combines the speed and convenience of e-Commerce while building supplier's customer loyalty in a fully branded environment.

Multi-Brand or Single-Brand Content
Mobile Commerce Ready
Payment Processing Options: credit or debit card, on account or finance
Mi-T-M Corporation is one of the first to launch their support site with the SmartEquip e-Commerce solution.
"Our current SmartEquip site is light years ahead of where we started. Our customers find it user friendly and very accurate to reduce mistakes in the ordering process," says Dana Schrack, VP of Sales, Mi-T-M Corporation. She adds, "It has become a total resource solution for our customers, sales force and tech department."
If your business is outgrowing your current e-Commerce solution or is in need of reaching customers with a strategic digital approach, consider SmartEquip e-Commerce (http://bit.ly/2SpgvqI) Want to learn more about SmartEquip? Schedule a Demo (http://bit.ly/3bddouF)
About SmartEquip
SmartEquip is the leading technology standard for equipment lifecycle management, service and procurement support for the construction industry. The platform provides a seamless brand-enhancing experience for fleet owners, manufacturers, and distributors of complex equipment. SmartEquip enhances ROI for all Network participants by increasing equipment uptime, improving both technician wrench time and transaction accuracy, while reducing the total cost of equipment ownership. The SmartEquip Network currently supports more than 500 OEM brands, with over 50,000 users across more than 4,000 equipment locations globally. The Network supports over $1 billion in parts transactions annually and the company is led by veterans of construction, technology and data sciences. Founded in 2000, SmartEquip is positioned to define tomorrow's dynamic and evolving equipment industry. http://www.smartequip.com. Follow us on Twitter (http://www.twitter.com/smartequip) & LinkedIn (http://www.linkedin.com/company/smartequip) and Like us on Facebook. (http://www.facebook.com/SmartEquipBeReady)