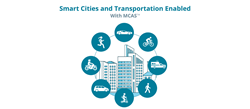 "Mobile devices, dating back to the iPhone and Galaxy 5-series, are loaded with sensors, are deeply distributed and capable of running our sensor-fused AI, which natively runs on the smartphone to ensure quick and easy adoption by huge segments of the population," said Erik Goldman, CEO of Sfara.
HOBOKEN, N.J. (PRWEB) May 14, 2020
Because of our outdated transportation and city models, people are dying, our air is being polluted and productivity is lost. Last year, in the U.S. alone, over 50,000 loved ones were killed by a vehicle collision, most caused by avoidable human error. Over 87 billion dollars a year are wasted because of lost productivity while commuters sit in traffic jams. Pollution from those same jams is estimated to add 18 billion in cost to our healthcare system, while also diminishing local businesses by dis-incentivizing walking, cycling, and scootering.
A great hope for the future is in converging the promise of autonomous vehicles with that of smart cities, where all moving things and city infrastructures are communicating, coordinating, and predicting. Those of us within affected industries and governments have been excited for decades over the solutions offered by cities and roadways that are smarter, greener, and incredibly safer. But that hope has stalled due to infrastructure challenges, with not much promise of resolution in the near future. Our innovative over-the-top (OTT) technology is about to change everything.
Introducing Multi-Modal Collision Avoidance System (MCAS). MCAS is a smartphone-based solution enabling an edge-based communication infrastructure amongst all modes of transportation.
In an MCAS world, drivers, riders, pedestrians, first responders and families are safer during the transition to full autonomy that is occurring over the next 35 years. Because MCAS is smartphone based, every individual carrying a device can be immediately (and anonymously) connected, communicating, coordinating and predicting movement with other sensing devices thereby creating a Sphere of Safety™ for the user that can manifest in a multitude of ways, including:

When a teenager pedals his bike into traffic from behind an object that obscures him from the sight of human drivers and vehicle sensors, MCAS will have predicted his trajectory and alerted the drivers, autonomous systems and the teen.
If a vehicle is broken down around a curve, MCAS can alert a smart car's automatic braking system to reduce speed, even though a truck in front of him is blocking the sensors and its distracted driver is headed full speed for disaster.
When paramedics are rushing to the scene of an emergency, MCAS can alert drivers and autonomous systems to yield and clear a path for the ambulance.
What is apparent from these scenarios is that even in an advanced state of autonomy, there will always be unconnected things acting in unpredictable ways. As such, even the most robust embedded autonomous sensing systems will be deeply challenged. Without MCAS, there will be a difficult and chaotic transition for several decades, where dumb, smart, and autonomous vehicles will have to share the roads despite not being able to communicate with each other. Without MCAS, safety issues and deaths during this transition period will radically slow the growth of autonomous initiatives and ultimately smart cities.
To realize the profound benefits of this new world, MCAS had to overcome many hurdles that have stalled development of traditional technical paradigms. The biggest of these industry challenges is the lack of ubiquitous sensors and effective communications infrastructure. However, given MCAS is based off of sfara's patented AI, running natively on smart phones, it can be quickly deployed using the devices in the hands of citizens and existing carrier networks, allowing cities to quickly achieve critical levels of adoption.
But even with these sensor and infrastructure challenges solved, the underpinning technology necessary to bring this solution to life is formidable. In the end, it took a consortium of leading technology companies to converge the necessary technologies using their deeply specialized expertise. These companies are Solace, Accedian and Deutsche Telekom's MobiledgeX.
"Mobile devices, dating back to the iPhone and Galaxy 5-series, are loaded with sensors, are deeply distributed and capable of running our sensor-fused AI, which natively runs on the smartphone to ensure quick and easy adoption by huge segments of the population," said Erik Goldman, CEO of Sfara. "Notwithstanding, in order to realize our vision of MCAS, we knew we needed to bring in additional expertise from world-class partners who share sfara's passion for saving lives."
One challenge to MCAS was generated from the reality that mobile phones travel through zones and countries that are owned by diverse carrier networks using various technologies, many with data latency issues for creating time-sensitive data flow where milliseconds matter. These challenges are overcome by MobiledgeX who provides the edge computing capability. "Deutsche Telekom's MobiledgeX allows smartphones to communicate to cloudlets at the speeds necessary for life-saving data exchange with infrastructure, no matter who owns the infrastructure," said Eric Braun, CCO at MobiledgeX.
Additionally, MCAS data traffic must be prioritized so there is unfettered data flow. Simply put, you do not want a delay in critical safety data because someone else is a streaming a 4K movie trailer. Solace is handling the challenges of data prioritization and distribution. "Solace extrapolates data sent to the cloudlets in the cell towers, prioritizes that data and then shares it as needed amongst cloudlets, which will give MCAS data priority over other network traffic," said Denis King, CEO, for Solace.
Lastly, like all data transmission technology, security is an issue. But the issue is amplified by the nature of MCAS data, where human lives and critical command-control information is at stake for smart cities. "Accedian will closely monitor cloudlet, network and application performance, as well as create auditable telemetry and user attribution," said Dion Joannou, CEO, Accedian.
As a complete solution, MCAS will be one of the biggest breakthroughs in transportation infrastructure history, opening the pathway, and perpetual sustainability, for connected mobility, autonomous vehicles and smart cities. We have all been reading of this coming utopia for some time. With MCAS, the promise can now be the reality.
It is time to take action and initiate the transition to Smarter, Greener, Safer Cites and Roadways.
Get more information about MCAS >
PRESS CONTACT:
Sfara, Inc.
Rocco Tricarico
Chief Marketing Officer
press@sfara.com
About Sfara, Inc.:
Sfara is enabling a mobile revolution in safety and control. Sfara's patented AI technology and global platform transforms the smart phone into a secure mobile safety and analytics solution, available as a GDPR-compliant SaaS offering to our partners in the mobility space, including automakers and mobile network operators.
Capable of running on 4.6B smart phones sold worldwide since 2013, Sfara technology represents a paradigm shift for the telematics industry and our partners—offering unprecedented detection capabilities, without incremental hardware or data transport costs. Sfara provides a highly scalable, cloud-based data analytics and assurance solution designed to assist companies navigating the challenges of shifting transportation models, such as transportation-as-a-service, semi and fully autonomous vehicles, as well as fleet management and ride-sharing services.
Sfara is led by a deeply experienced executive team with over 150 billion miles driven on their leading-edge, embedded and aftermarket telematics solutions for consumer and fleet applications, including UBI and MPERs, operated throughout North America, Europe and China. Headquartered in Hoboken, NJ, Sfara also is expanding in Silicon Valley, Finland and Germany via Sfara GmbH.
MCAS™, Multi-modal Collision Avoidance System is a trademark of Sfara, Inc.
More at Sfara.com
About Solace
Solace helps large enterprises become modern and real-time by giving them everything they need to make their business operations and customer interactions event-driven. With PubSub+, the market's first and only event management platform, the company provides a comprehensive way to create, document, discover and stream events from where they are produced to where they need to be consumed – securely, reliably, quickly, and guaranteed.
Behind Solace technology is the world's leading group of data movement experts, with nearly 20 years of experience helping global enterprises solve some of the most demanding challenges in a variety of industries – from capital markets, retail, and gaming to space, aviation, and automotive. Established enterprises such as SAP, Barclays and the Royal Bank of Canada, multinational automobile manufacturers such as Groupe Renault and Groupe PSA, and industry disruptors such as Jio use Solace's advanced event broker technologies to modernize legacy applications, deploy modern microservices, and build an event mesh to support their hybrid cloud, multi-cloud and IoT architectures.
More at Solace.com
About Accedian
Accedian is the leader in performance analytics, cybersecurity threat detection and end user experience solutions, dedicated to providing our customers with the ability to assure and secure their digital infrastructure, while helping them to unlock the full productivity of their users.
We are committed to empowering our customers with the ability to see far and wide across their IT and network infrastructure and a microscopic ability to dive deep and understand the experience and security of every user, helping them to delight and protect their own customers each and every time.
Accedian has been delivering solutions to high profile customers globally for over 15 years.
More at Accedian.com
About MobiledgeX
Deutsche Telekom's MobiledgeX Inc. is building a marketplace of edge resources and services that will connect developers with the world's largest mobile networks to power the next generation of applications and devices. MobiledgeX is an edge computing company founded by Deutsche Telekom AG and headquartered in San Francisco, California.
More at MobiledgeX.com