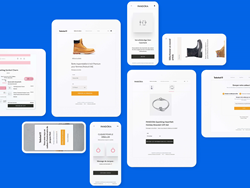 "SmartGift provides customers a new way to shop for others by including recipients in the decision making process. We believe that gifting is a personal experience and our team is dedicated to creating a sophisticated and easy service," commented Monika Kochhar, CEO and Co-Founder of SmartGift.
NEW YORK (PRWEB) November 19, 2020
With consumers turning to online stores in even greater numbers than ever before to send their holiday presents to loved ones, SmartGift has expanded its partnerships with Pandora and VF Corporation to offer its gifting services to consumers in Canada, France, Germany, and the UK. SmartGift is now available through Timberland Canada's website and Pandora Canada, France, Germany and UK's websites.
Through SmartGift's unique and reliable technology that eliminates the fear of returns or sending the wrong size, color, shade, fragrance, etc., SmartGift has bolstered consumer confidence in the gift giving process by having the gift notice arrive instantly and including the recipient to customize the thought into their perfect gift. Without these stressful factors and the hassle of sending gift cards and packages internationally, consumers can create special memories this holiday season through a virtual experience and contactless service that aims to surprise and delight recipients, as if they were receiving the gift in person.
"While 2020 has thrown many curveballs for consumers and shifted their plans of celebrating momentous occasions in-person with friends, family, and loved ones, SmartGift is humbled to be the first choice among many consumers to send their holiday gifts and is proud to be providing them a bridge to create new traditions in their communities. As we begin to expand internationally and offer more markets the opportunity to engage with our unique gifting services, SmartGift still aims to achieve our straightforward mission of empowering shoppers and recipients with the perfect gift every time," said Monika Kochhar, CEO and Co-Founder of SmartGift.
With the winter holidays less than a month away, the team at SmartGift is working hard to offer consumers their services through even more brands and are developing a new, dedicated corporate gifting service which provides an elevated user experience, expanded catalog of top branded gift offerings, and customization features for small, medium, and large organizations. This will work to complete the circle of gifting at every level and for every occasion.
About SmartGift:
SmartGift is the fastest growing, gift-based ecommerce and data platform today and is a service that helps shoppers give the perfect gift, every time. Its award-winning, patented Send with SmartGift platform is used to make every gift perfect. Leveraging AI and real-time gifting data, SmartGift helps retailers and brands become more people-centric in their marketing and personalization experiences.
On the consumer side, shoppers can select and gift an item from our collection of relationships, gift guide content, and networks of partnered brands on the SmartGift store. For more information on how to gift across today's top industries such as luxury goods, jewelry, cosmetics, fashion, performance gear, electronics, floral arrangements, gourmet food, luggage brands and many more, visit https://www.smartgiftit.com/.