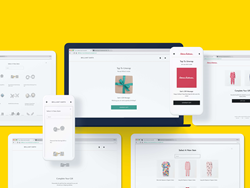 "SmartGift has partnered with local and international brands across multiple industries to make sure every gift sent with our services is the perfect gift. Our intriguing technology and integrative design includes the recipient by letting them review & tailor the gift to their preferences."
NEW YORK (PRWEB) December 17, 2020
With the COVID-19 pandemic altering the way consumers typically celebrate the holidays, many people have been faced with hard choices on how they will plan to see loved ones, or shop and send presents, while keeping everyone and themselves safe. Aiming to enable users to send the perfect gift every time, even amidst the ever-changing landscape of the pandemic, SmartGift's mission is to provide consumers with a new way to shop for others and to remove the inherent uncertainty by including recipients in the decision making process.
As a people-oriented company, SmartGift offers the tools and services to open the gifting marketplace to those seeking to send gifts for their loved ones' celebratory moments, whether they can be there in-person or virtually. As the pandemic took hold around the world, the team at SmartGift dedicated themselves to providing every consumer with the chance to maintain yearly traditions or to create new ones by shaping our services around their needs. Since March 2020, we have offered free greeting cards, created COVID-19 friendly gift guides, developed a gift scheduling feature, and have launched our services internationally to reach out and celebrate special moments with our local and global communities.
With that goal in mind, SmartGift has partnered with Brilliant Earth, an ethical and sustainable fine jewelry company, and Hanna Andersson, a family and children's clothing brand based on Scandinavian principles of happiness and design, to provide gifting services to its customers through our innovative technology. For all their customers' gifting needs for the winter holidays, anniversaries, birthdays or for people celebrating relationships and the growth of families, SmartGift will be there to offer remote gifting services that send gifts instantly and allow the recipient to customize or swap for their perfect gift.
"As we enter the last month of 2020, everyone at SmartGift has been reflecting on how we can further our services and partner with new brands to provide our unique experience that is interactive and designed to delight, engage, and enable seamless gifting. As we begin our partnership with Brilliant Earth and Hanna Andersson, we are honored to be working with such one-of-a-kind and remarkable companies that offer their items that commemorate moments like engagements, proposals, a new birth, or creating memories with our children," said Monika Kochhar, CEO and Co-Founder of SmartGift.
From launching strategic social and email campaigns to a new website that reflects the tremendous growth and breadth of products and services the company launched over the past year, along with other exciting developments in the pipeline, SmartGift is poised and seeking new opportunities to grow and expand the gifting industry.
About SmartGift:
SmartGift is the fastest growing, gift-based ecommerce and data platform today and is a service that helps shoppers give the perfect gift, every time. Its award-winning, patented Send with SmartGift platform is used to make every gift perfect. Leveraging AI and real-time gifting data, SmartGift helps retailers and brands become more people-centric in their marketing and personalization experiences. On the consumer side, shoppers can select and gift an item from our collection of relationships, gift guide content, and networks of partnered brands on the SmartGift store.
For more information on how to gift across today's top industries such as luxury goods, jewelry, cosmetics, fashion, performance gear, electronics, floral arrangements, gourmet food, luggage brands and many more, visit https://www.smartgiftit.com/.