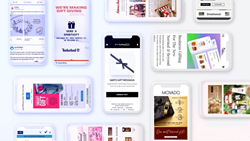 "Our growth in 2020 was strong, with a sixfold increase in gift orders successfully given and received," notes Monika Kochhar, CEO at SmartGift.
NEW YORK (PRWEB) January 27, 2021
Gift-based ecommerce and data platform SmartGift today reported more than 600 percent overall growth in 2020. As digital technologies became the connective tissue of every interaction, transaction and experience through the pandemic, retailers and consumers alike reached for new ways to celebrate special occasions while social distancing.
"Our growth in 2020 was strong, with a sixfold increase in gift orders successfully given and received," notes Monika Kochhar, CEO at SmartGift. "With end-to-end transaction time dropping to an average of only 21 minutes—compared with three to six months for gift cards—we've seen dozens of new retailers sign on to the platform in time for Valentine's Day."
SmartGift experienced a 667 percent increase in gift orders for Mother's Day 2020, the first national holiday after stay-at-home orders were imposed. End-of-year holiday gift purchases followed a similar trajectory, with six-times more gift purchases than the year before—up 506 percent. The platform further allowed retailers to extend the post-shipping cut-off shopping window to consumers by five days, right up to the day of the occasion. For some platform brands, SmartGift transaction volume accounted for 10 percent of total online revenue on the day of the occasion.
SmartGift's data shows that birthday gifts sent via its platform were up 347 percent in 2020, while Valentine's Day 2020 gifting, which fell just before the pandemic, still saw an increase of 314 percent over the previous year. The SmartGift platform also expanded and diversified its user and recipient demographic data, marking that more than 15 percent of users were over 65 years old, while 55 to 65-year-olds accounted for another 15 percent and 45 to 54-year-olds 17 percent. Growth among younger users also continued to be strong, with the 25 to 34-year-old age bracket representing 25 of users and 35 to 44 year-olds 19 percent.
Top brands that have added the technology to their sites include Aveda, Bobbi Brown, Eagle Creek, Hanna Andersson, JanSport, MAC Cosmetics, Origins, Smartwool, Timberland, and Too Faced. Along with dozens of other brands, they also made a positive sustainability impact by offering SmartGift's technology to their consumers. Nearly one in four gift recipients changed the size, color or fragrance, or swapped the gift altogether before it was shipped to their home, significantly reducing packaging waste, delivery contact, and carbon footprint.
SmartGift's technology is now also available to Pandora Jewelry European consumers in the United Kingdom, Germany and France, and the company has announced 2021 expansion plans into Southeast Asia and Australia.
Adds CEO Kochhar: "SmartGift also helped businesses to engage with their employees, partners and clients by sending thousands of holiday gifts, using only the recipients' email addresses, in partnership with 1-800-Flowers.com. We will continue to grow and invest in corporate incentive giving, offering our unique sending and receiving platform, luxury and aspirational brands marketplace, direct connectivity into retail shopping carts, and gift genome interaction, choice and preference data."
Watch SmartGift's latest highlights in 60 seconds.
About SmartGift:
SmartGift is the fastest growing, gift-based ecommerce and data platform today and is a service that helps shoppers give the perfect gift, every time. Its award-winning, patented Send with SmartGift platform is used to make every gift perfect. Leveraging AI and real-time gifting data, SmartGift helps retailers and brands become more people-centric in their marketing and personalization experiences. On the consumer side, shoppers can select and gift an item from our collection of relationships, gift guide content, and networks of partnered brands on the SmartGift store.