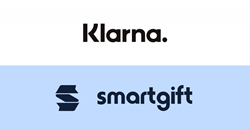 People either buy for themselves or for others. This partnership will enable both shopping journeys seamlessly and with ease.
NEW YORK (PRWEB) October 13, 2021
Gift-based e-commerce and data platform, SmartGift, today announced a partnership with Klarna to allow shoppers to buy and instantly send gifts from any Klarna merchant and pay for them in four interest-free payments. It will also enable merchants to reduce costs, boost revenues and drive loyalty through meaningful and relevant customer experiences.
SmartGift today powers gifting for top brands globally in North America, Europe, and APAC. Through its patented "Send as a Gift" technology, SmartGift transforms traditional gifting into a modern and inclusive experience for mobile shoppers and conscious consumers. Shoppers will be able to organically browse items through Klarna's merchant partners and instantly send gifts for any occasion — without having to know or guess the recipient's shipping address or preferences such as size, color, shade, pattern, and fragrance. Recipients can even exchange a product before it ships.
By providing an effortless way to surprise and delight others, and allow recipients to select their own preferences, SmartGift leaves both gift senders and recipients feeling included and satisfied. Shoppers who use SmartGift pay after the recipient accepts the gift. Combined, these options will dramatically ease the wallet load and mental stress of Q4 holiday shopping.
"Our partnership with Klarna celebrates human connections with gifting," notes Monika Kochhar, CEO at SmartGift. "People either buy for themselves or for others. This partnership will enable both shopping journeys seamlessly and with ease."
"Over the last two years, SmartGift's retail partners have seen the power of generosity and community like never before. Gift moments like 'just because', 'thank you' and other evergreen gifting occasions have seen an increase of over 500%, opening up a new channel for product discovery. With positive consumer sentiment leading into the upcoming end-of-year holidays, this partnership sets up a major win-win," added Kochhar.
For merchants, this partnership will provide significant benefits for driving customer acquisition and brand loyalty as part of a larger gifting and e-commerce strategy. SmartGift enables merchants to fulfill the consumer demand for a seamless, safe, and sustainable gifting experience.
Through online gifting powered by SmartGift, merchants will be able to fulfill a conversion in less than 30 minutes — instead of a typical three to six months with gift cards. With a simple path to conversion, potential customers can be turned into dedicated shoppers without a delay.
With gifts delivered digitally through text, email, or any other messaging platform, the partnership will enable Klarna's merchants to set up safe, online gift shopping, while also activating last-minute gifting that otherwise lays untapped. By extending the holiday season post-shipping cut-off with SmartGift, merchants will be able to use SmartGift to make up to 10% of the total online revenue on the day of a peak holiday and 4% during peak holiday weeks.
With more than 14% of all holiday merchandise being returned due to getting gift preferences wrong, Klarna and SmartGift will help shoppers gift wisely by granting recipients the ability to choose their perfect gift. With built-in steps that inherently reduce returns, SmartGift significantly decreases overhead costs and environmental waste associated with the extra packaging material required to send items back. Klarna and SmartGift will provide sustainable gifting that benefits merchants, consumers, and the environment at scale.
"We're excited to partner with SmartGift to offer even more opportunities for our merchants to enable a superior and flexible shopping experience for their customers," said Matthew Suraci, Head of Business Development and Partnerships, Klarna. "At a time when digital gifting is more important than ever, this partnership will allow shoppers to discover, pay for, and send the perfect gift conveniently ahead of the holiday season."
About SmartGift
SmartGift is the leading gift-based e-commerce and data platform that powers gifting for top global brands. Its award-winning, patented "Send with SmartGift" technology enables shoppers to send the perfect gift every time. Leveraging machine learning and real-time gifting data, SmartGift empowers retailers and brands to win new customers and drive loyalty with people-centric marketing and personalized experiences. Shoppers can gift an item from SmartGift's networks of partnered brands or discover its gift guide content on the SmartGift store. For more information and for a list of SmartGift enabled brands visit: smartgift.com.
About Klarna
We make shopping smooth. With Klarna, consumers can buy now and pay later, so they can get what they love today. Klarna's offering to consumers and retailers include payments, social shopping, and personal finances. Over 250,000 retail partners, including H&M, IKEA, Expedia Group, Samsung, ASOS, Peloton, Abercrombie & Fitch, Nike and AliExpress have enabled Klarna's innovative shopping experience online and in-store. Klarna is one of the most highly valued private fintechs globally with a valuation of $45.6 billion. Klarna was founded in 2005, has over 4,000 employees and is active in 17 countries. For more information, visit klarna.com.