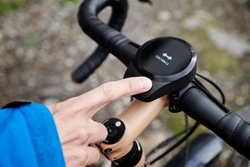 Every cyclist out there is different. They all have their own story. We built SmartHalo 2 so they could each make it their own.
MONTREAL (PRWEB) June 28, 2019
The new and improved second-generation version of the all-in-one smart bicycle accessory SmartHalo has reached 1 million dollars USD in pledges from over 8000 cyclists worldwide, with one week remaining in the campaign.
"We're thrilled with the response from the community," said Xavier Peich, co-founder and CEO of SmartHalo Technologies Inc. "We're close to three times the amount we raised for the first generation, and there is still time. It speaks to the quality of the product we've built."
SmartHalo 2 is a minimalist device securely mounts to the handlebars of any standard bike, turning it into a smart bike. After a successful Kickstarter campaign for SmartHalo in 2015, the company is back with a revamped second-gen product that cyclists can customize to fit their cycling style. SmartHalo 2 maintains the core functionality of version one, with a number of hardware and software upgrades and a focus on personalization. Like its predecessor, SmartHalo 2's five core features include a navigation system, a powerful light, an anti-theft alarm, fitness tracking, and personal assistant.
Central to the tech's minimalist design is an intuitive halo of light that guides cyclists to their destination with turn-by-turn signals, tracks fitness goals and much more. It even greets users when they hop on their bike. The circular interface has been designed to keep cyclists focused on the road.
Among SmartHalo 2's over 30 upgrades include a smaller size, discreet 1.5" OLED screen, extensive customization of metrics to suit any cycling style, GPX and waypoints integration, a universal mount adapter compatible with quarter lock mounts, a 5-times more powerful smart front light that now automatically adjusts based on the environment, and more.
"Every cyclist out there is different," said Peich. "They all have their own story. We built SmartHalo 2 so they could each make it their own."
SmartHalo 2 uses an innovative navigation algorithm, custom built for cycling. Cyclists enter their destination in the app, choose their path (e.g. fastest, flattest, safest, or recommended) and the circular interface on their handlebars guides them with intuitive, turn-by-turn, light signals. Cyclists can also set waypoints en route to their destination, and import/export GPX files. Distance to destination and ETA are shown both on the device and in the app.
For theft protection, SmartHalo stays on the bike at all times with the anti-theft lock. The internal motion sensor makes sure that any persistent meddling with a bike triggers a loud, 100db alarm when the cyclist isn't around. When the cyclist comes back, it disarms automatically.
To help with fitness tracking, SmartHalo 2 tracks distance travelled, speed, time, calories, and elevation. It lets users set fitness goals in the app, view lifetime stats, and detailed metrics in the app and on the handlebars. It also has Strava integration.
At night, cyclists can see and be seen. At night or in dim conditions, SmartHalo 2's 250 lumens rechargeable light turns on automatically with the help of its light sensors. When the ride is finished, it shuts down on its own.
Further personalizing the riding experience, SmartHalo 2 can allow cyclists to receive notifications from various messaging apps and calls on Android and iOS so they don't need to check their phone at every corner. It connects with apps such as SMS, WhatsApp, Gmail, Messenger, and Slack.
"Cycling is a healthy, convenient, cheap, and eco-friendly way to move around," said Chief Design Officer and co-founder Gabriel Alberola. "We want to make it easier to choose cycling for transportation."
The estimated delivery date of SmartHalo 2 is December 2019. For more information on pledge breakdown please see the Kickstarter page.
Media Contact
Dom Simard
514-942-1397‬
dom(at)smarthalo.bike
About SmartHalo Technologies Inc
SmartHalo Technologies Inc is a venture-backed, Montreal-based technology and design company. It strives to improve urban mobility by building amazing cycling products that combine sophisticated technologies and elegant simplicity. Launched initially as a massively successful Kickstarter campaign, the first product has been sold so far to 25,000 cyclists in over 70 countries. It is distributed in Apple Stores, Amazon, Best Buy, Gravis, MoMa Design Stores, and more.