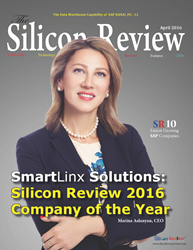 We are delighted and honored to be recognized as The Silicon Review's 2016 Company of the Year. At SmartLinx, we strive to continually innovate solutions that help our customers care for their most valuable asset - their people. - Marina Aslanyan
Edison, NJ (PRWEB) May 06, 2016
SmartLinx Solutions™ LLC., the trusted leader in workforce management solutions, has been named 2016 Company of the Year by The Silicon Review, the world's most trusted online and print community for business & technology professionals. The award recognizes the most dynamic company making a significant contribution in the fields of Business and Technology and facilitating sustainable market growth. Pivotal in the selection of SmartLinx was its ability to help organizations manage a workforce in the face of ongoing regulatory changes, employee engagement and turnover challenges, and yet deliver exceptional quality while simultaneously managing labor costs.
"We are delighted and honored to be recognized as The Silicon Review's 2016 Company of the Year. At SmartLinx, we strive to continually innovate solutions that help our customers care for their most valuable asset - their people," says Marina Aslanyan, CEO of SmartLinx Solutions.
About SmartLinx Solutions
SmartLinx Solutions, the 2016 Gold Stevie® award winner for Customer Service Management Team of the Year, has helped organizations forever transform their business and distinguish their employer and consumer brands with its integrated, real-time workforce management solutions. Their award-winning, cloud-based WorkLinx™ product suite enables mobility-driven employee engagement, drives proactive regulatory compliance management, and delivers permanent operational advantage. SmartLinx serves global clients with staff schedule optimization, time and attendance, human resources, payroll, employee self-service, business analytics, licensing and training management, ACA compliance management, mobility, and time clock solutions. For more information, visit http://www.smartlinxsolutions.com or call +1-877-501-1310.