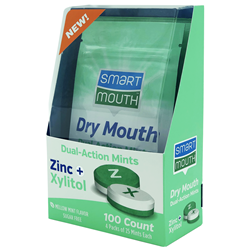 SmartMouth's resident dentist and ADA member Dr. Elizabeth Clary asserts, "Dry Mouth Activated Oral Rinse provides relief from the symptoms and discomfort of dry mouth, it moisturizes and soothes oral irritation, and it lubricates oral dryness."
ST. LOUIS (PRWEB) April 06, 2020
More than 53,000 Americans will be diagnosed with oral cancer in 2020.
In honor of Oral Cancer Awareness Month this April, SmartMouth has partnered with Mediaplanet to help bring awareness to this disease through their Oral Health campaign, which launched last week.
In this month's issue entitled Oral Health, Emmy Award-winning voice actor, author, and singer Rob Paulsen describes his journey through his diagnosis, treatment, and recovery from throat cancer, and how he adjusted to his "new normal." As the spokesperson for Head and Neck Cancer Alliance's Oral, Head, and Neck Cancer Awareness Program, Paulsen stresses the importance of early detection and prevention, and empathizes with patients and survivors who have struggled with the disease.
Those suffering from oral cancer endure harsh side effects, from difficulty swallowing to loss of their voice. One of the most common ongoing side effects of many cancer treatments is dry mouth, which is caused by the destruction of the salivary glands.
SmartMouth offers two complimentary solutions for those suffering from dry mouth.
SmartMouth's resident dentist and ADA member Dr. Elizabeth Clary asserts, "Dry Mouth Activated Oral Rinse provides relief from the symptoms and discomfort of dry mouth, it moisturizes and soothes oral irritation, and it lubricates oral dryness."
In addition to the Dry Mouth Activated Oral Rinse, SmartMouth recently launched dual-action Dry Mouth Mints, which contain Zinc for oral health and Xylitol, a saliva stimulant. The convenient pouch design fits easily in your pocket for on-the-go dry mouth relief.
About SmartMouth Oral Health Laboratories
SmartMouth Oral Health Laboratories manufactures and markets SmartMouth branded mouthwash, toothpaste and mints through national retailers and online. Headquartered in St. Louis, Missouri, SmartMouth has been working to eliminate and prevent bad breath since 1993.
For a special offer on Dry Mouth products, please visit https://www.smartmouth.com/dmoffer.
The Oral Health campaign was distributed by Mediaplanet through USA TODAY on March, 31 2020 and is published online here:
https://issuu.com/mediaplanet_usa/docs/oral_health_final_boston
https://www.futureofpersonalhealth.com/oral-health/head-and-neck-cancer-means-a-difficult-new-normal-for-many-survivors/