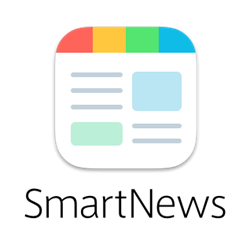 The monthly active user growth trajectory of SmartNews is impressive in Japan and in the US
SAN FRANCISCO (PRWEB) July 16, 2018
SmartNews (http://www.smartnews.com) reached another growth milestone in the United States and Japan: over 10 million monthly active users now enjoy the unique news discovery experience provided by its combination of machine learning technology and more than 3,000 trusted sources globally.
Recent key business achievements include:

Over 200% year-over-year growth in the United States user base
#1 news app per monthly user engagement in the U.S.* and Japan** (source: App Annie)
Over 300 media partnerships in the U.S. including USA TODAY, Reuters, NBC News, BBC, HuffPost, Vice News, Business Insider and TechCrunch
"The monthly active user growth trajectory of SmartNews is impressive in Japan and in the US in the last 12 months especially combined with over six (6) hours of usage per user per month on average,"*** says Danielle Levitas, Executive Vice President, Market Insights & Client Partner at App Annie.
"What we have accomplished in the last 12 months both in Japan and in the U.S. demonstrates the long-term potential of SmartNews's vision of delivering quality information to the world," says Ken Suzuki, CEO and co-founder of SmartNews. "We will continue to focus, in the coming months, on developing new features to provide more content that truly matters to our users."
SmartNews is available for free on Google Play or Apple's App Store.
About SmartNews
SmartNews is a leading global news discovery company, dedicated to delivering quality information to the people who need it. SmartNews provides news that matters to its millions of users thanks to its unique machine learning technology and relationships with over 300 global media brands such as Reuters, USA TODAY, the Associated Press and Vice. The company has more than 120 employees and offices in Tokyo, San Francisco and New York.
Methodology notes
*: App Annie, United States, monthly user engagement defined as time spent per user per month on Android phone for News & Magazine apps with over 1 million MAU and excluding community (e.g. Reddit) and podcast (e.g. CastBox) apps.
**: App Annie, Japan, monthly user engagement defined as time spent per user per month on Android phone for News & Magazine apps with over 1 million MAU and excluding platform (e.g. Yahoo Japan), community (e.g. Reddit) and podcast (e.g. Castbox) apps
***: App Annie, May 2018 Android Usage data, average time per user per month