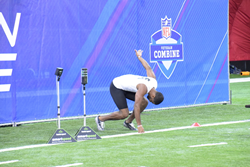 The 40-yard dash is one of the most talked about events at any combine experience.
Chicago, IL (PRWEB) April 24, 2015
The 40-yard dash, powered by Fusion Sport, will be hosted at Draft Town's Combine Corner. To simulate the experience even more, participants in 4 lanes will race alongside a pre-recorded NFL star on a 40-yard long LED screen to see how close they match up. The Smartspeed PRO wireless speed and agility timing system, also featured at the NFL Regional Combines and the first NFL Veteran Combine in Arizona, will provide timing for the event. Smartspeed can be seen in use prior to Draft Town events on the upcoming one hour ESPN Sport Science Combine Special, April 27.
The 40-yard dash is one of the most talked about events at any combine experience. All four lanes of the runners' times will be displayed with 1/1000th of a second accuracy on external Smartscore wireless scoreboards, allowing them to snap a picture with their times. Runners simply take their mark, get set, and go! To see how they compare, participants are encouraged to share pictures of their 40 times on twitter @Fusionsport_03, with the tag: #SmartspeedPRO.
Fusion Sport Smartspeed is a globally recognized brand in athlete speed, agility testing, and training used by professional teams in over 25 countries. It can accommodate different levels of users' needs with their PRO, LITE, and PT versions. The newest entry level model, Smartspeed PT, is ideal for schools, club coaches, and personal trainers.
In addition to best in class timing systems, Fusion Sport is also known for their award winning Athlete Data Management platform, Smartabase. Used by over 120 professional teams, colleges and Olympic Sports Organizations worldwide, the MIT SLOAN Sports Analytics Conference Trade Show Blitz competition recently named Fusion Sport as the company likely to have the most promising impact in the sports market with their Smartabase solutions.
Draft Town is the free, expansive interactive Draft celebration in Grant Park open all three days of the Draft. Full of music, food and more, the 900,000-square foot celebration is the size of more than 15 football fields. No tickets are required. For more information on Draft Town attractions, events and prohibited items, visit NFL.com/DraftTown.
For more information on Fusion Sport, Smartspeed, Smartabase products & services, visit us at the NFL Draft Town in Chicago or go to http://www.FusionSport.com.