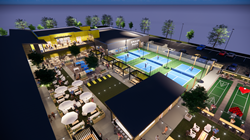 "Smash Park is a unique concept, that appeals to a broad demographic, and provides multiple revenue streams. Combine that with the explosive growth of pickleball, and we feel Smash Park will be a welcome addition to any community."
WEST DES MOINES, Iowa (PRWEB) July 30, 2020
Smash Park®, a West Des Moines based "eatertainment" concept, announced today that it has launched a new program to sell franchises, beginning its nationwide expansion efforts. The franchising entity, Smash Park Franchising, LLC, will operate under the Smash Park Entertainment Group organization.
"From day one, we built Smash Park with the idea of franchising and nationwide expansion," said Monty Lockyear, Smash Park Entertainment Group CEO. "It's exciting to be one of the very few franchise opportunities in the eatertainment space and give entrepreneurs the chance to enter this popular and growing category. Smash Park is a unique concept, that appeals to a broad demographic, and provides multiple revenue streams. Combine that with the explosive growth of pickleball, and we feel Smash Park will be a welcome addition to any community."
Initially opening their doors in September of 2018, the original Smash Park® indoor / outdoor entertainment venue offers a fast-casual restaurant, multiple bars, big screen tv's, live entertainment, and games such as pickleball, ping pong, shuffleboard, bocce ball, cornhole and arcade. Since opening, Smash Park® has re-invented community activities with DIY craft classes, social and competitive leagues, weekly game nights, tournaments and watch party experiences. The venue features more than 28,000 square feet of indoor space and an expansive 17,000 square foot patio called "The Yard".
The newly launched franchise program provides an opportunity for qualified professionals to own and operate an independent business, following an established business model in their own local territories. "Our number one focus is the success of each franchisee," said Lockyear. "In addition to systems and personal support, we've developed a suite of proprietary software to provide each franchisee a competitive and operational advantage."
The franchise program will initially be offered in select metropolitan areas with a population of one million or more, with broader expansion to follow.
For more information about franchise opportunities, visit http://www.smashparkfranchise.com.