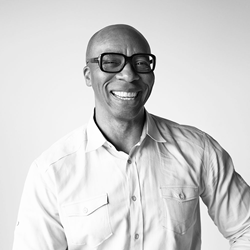 "Walter's diversified experience and leadership will help drive our strategic initiatives and ensure the realization of our long-term business goals." - Nick Jordan, Founder/CEO, Smashing Boxes
DURHAM, N.C. (PRWEB) October 17, 2019
Smashing Boxes, a digital product design and development firm specializing in custom solutions for web, mobile, IoT and connected devices, taps entrepreneur and seasoned technology executive Walter Pinson as vice president of strategy and Blockchain Practice Lead. Pinson is responsible for new strategic growth initiatives, developing the Blockchain practice, and launching Smashing Boxes' Venture Studio.
With nearly three decades of experience in strategic planning and software engineering across professional services and product development environments, Pinson will leverage his expertise to launch go-to-market strategies based on next generation technologies and customer demand. As a seasoned entrepreneur with a passion for personal data security, privacy and protection, Pinson will serve as a catalyst in creating new, decentralized business models and platforms with Smashing Boxes' clients and partners.
"Blockchain is a key enabler for meeting the increasing demand for robust data security and privacy, especially when it comes to the exchange of personal information through IoT and connected devices," says Nick Jordan, Founder/CEO, Smashing Boxes. "This is especially true when challenging the status quo in health-based technology. Blockchain IoMT (Internet of Medical Things) ensures the security and integrity of patient data in this next era of patient-centered care. Walter's experience and leadership further supports and extends Smashing Boxes position as a true industry innovation partner."
"The fundamental nature of blockchain is such that it will usher in a new age of disintermediation, shifting market power from incumbent platform operators to individual market participants. Deep understanding of cryptoeconomics, token governance models, and smart contract security implications are just a few of the areas of expertise required to compete and win in a decentralized marketplace." says Pinson. "I joined Nick and Smashing Boxes based on a shared commitment to innovation as the web continues to evolve. Blockchain represents the epicenter of that evolution. Smashing Boxes stands at the ready, offering this expertise to enterprise clients and startups, alike."
Tell us how we can help with your next generation digital product innovation and data security Contact Us.
What inspired Pinson's passion for protecting personal data? Read the Entrepreneurial Spotlight https://smashingboxes.com/blog/entrepreneurial-spotlight-walter-pinson-vp-strategy-blockchain to find out.