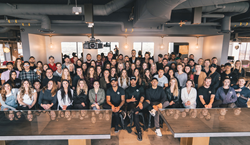 SAN DIEGO (PRWEB) May 23, 2019
Smashtech has been named one of Inc. magazine's Best Workplaces for 2019. The company has received this honor for the third year in a row.
Hitting newsstands May 28, in the June 2019 issue, and as part of a prominent Inc.com feature, the list is the result of a wide-ranging and comprehensive measurement of private American companies that have created exceptional workplaces, through vibrant cultures, deep employee engagement, and stellar benefits. Collecting data on nearly 2,000 submissions, Inc. singled out 346 finalists.
Each nominated company took part in an employee survey, conducted by Omaha's Quantum Workplace, on topics including trust, management effectiveness, perks, and confidence in the future. Inc. gathered, analyzed, and audited the data. Then we ranked all the employers using a composite score of survey results.
The strongest engagement scores came from companies that prioritize the most human elements of work. These companies are leading the way in employee recognition, performance management, and diversity. It's a different playbook from a decade ago, when too many firms used the same template: free food, open work environments, and artifacts of "fun."
"Being named a best workplace for the third year in a row is a real honor. I can remember the first year we made it to the list, my brother Anwar and I were over the moon!" says Smashtech Co-Founder Omar Imani. "Years ago when it was just the two of us, we set out to build a workplace that doesn't feel like work. Our culture is ever-evolving, and we continue to improve on it daily."
While researching the finalists, Inc. and Quantum saw distinct themes:

99 percent provide health insurance—and some cover the cost.
49 percent allow employees to bring pets to work.
65 percent take employees to offsite retreats to relax and recharge.
16 percent offer paid sabbaticals to reward length of service.
"Having a top rated workplace requires more than just flashy perks. It requires getting feedback from your team, providing them with what they need to succeed, and building the best environment that sets them up for success. We found that aside from the lunches, socials, game rooms, a beautiful office, etc. what really matters to the team is that their voices are heard. So we listen." Says Smashtech Co-Founder Anwar Husain
"With today's tight labor market, building a great corporate culture is more important than ever," says Inc. magazine editor in chief James Ledbetter. "The companies on Inc.'s Best Workplaces list are setting an example that the whole country can learn from."
About Smashtech
We're on a mission to disrupt the health and wellness industry. We create health and wellness eCommerce brands with world class products and customer experiences. We strive to make living a healthy lifestyle simple-- but how we do it is a far better story. When we say we create brands, we mean we actually dream them up and turn our ideas into eCommerce sensations, by managing everything in house.
We do it all from product development, manufacturing, design, branding, marketing, media, sales, and customer service, for every brand we create. It may seem like a mouthful, but we don't want anything to slow us down, hinder our agility, or tarnish our customer experience, and the best way to do that is to do it yourself. We're not an agency, we don't have clients, we simply create, manage, and own everything we touch.
About Inc. Media
Founded in 1979 and acquired in 2005 by Mansueto Ventures, Inc. is the only major brand dedicated exclusively to owners and managers of growing private companies, with the aim to deliver real solutions for today's innovative company builders. Winner of Advertising Age's "A-List" in January 2015, and a National Magazine Award for General Excellence in both 2014 and 2012, Inc. has a monthly audience reach that's grown from two million in 2010 to more than 20 million today. For more information, visit Inc.com.
About Quantum Workplace
Quantum Workplace is an HR technology company that serves organizations through employee engagement surveys, action-planning tools, exit surveys, peer-to-peer recognition, performance evaluations, goal tracking, and leadership assessment. For more information, visit QuantumWorkplace.com.