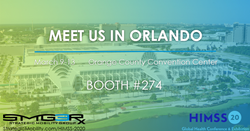 "The SMG3Rx team is incredibly excited to showcase our expanding solutions portfolio at HIMSS"
SCHAUMBURG, Ill. (PRWEB) January 10, 2020
SMG3Rx, a clinical mobility platform powered by Strategic Mobility Group (SMG3), has announced that it will be attending the HIMSS (Healthcare Information and Management Systems Society) Global Conference & Exhibition taking place on March 9–13, 2020.
HIMSS is the can't-miss health information and technology event of the year, where professionals throughout the global health ecosystem connect for the education, innovation, and collaboration they need to reimagine health and wellness for everyone, everywhere.
"I am looking forward to having SMG3Rx attend the upcoming HIMSS conference in Orlando, Florida. It is a testament to the growth of our healthcare division in 2019, and HIMSS provides us with a substantial opportunity to showcase the value we can bring to hospitals," said President & CEO, Nancy Gorski. "Ultimately, our goal is to better lives using technology, and HIMSS allows us to share our vision with key stakeholders."
Clinical mobility enhances communication by improving staff communication, increasing patient care, and making information more readily available for medical professionals. With SMG3Rx, healthcare operations will have access to industry-leading hardware and software, coupled with consultation services to make sure the device implementation runs smoothly.
"The SMG3Rx team is incredibly excited to showcase our expanding solutions portfolio at HIMSS", said Vice President of Sales, Eric Holmes. "What separates SMG3Rx is how we approach execution. Not only do we provide hospitals with hardware and software, but design a full mobility solution that includes implementation and mobile device management to achieve the highest level of security, performance, and reliability".
SMG3Rx will be exhibiting at booth #274 along with Chicago Cloud Group will be exhibiting at booth #4293.
To schedule an appointment with SMG3Rx at HIMSS please visit https://smg3rx.com/himss-2020.
About SMG3Rx
Strategic Mobility Group (SMG3) offers a Clinical Mobility Platform, SMG3RX, to solve communication workflow challenges through state-of-the-art software and mobile technology. Our team of knowledgeable experts is dedicated to providing innovative and cost-effective solutions for nurses and doctors to increase operational efficiency in hospitals. We want to streamline the systematic complexity of healthcare communications through the integration of mobile technology devices and software upgrades, coupled with a complete professional services package. Learn more about SMG3Rx at http://www.SMG3RX.com.
Keep your finger on the pulse of technology: https://strategicmobility.com/newsletter-signup