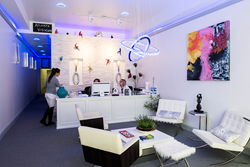 SMILE is a groundbreaking milestone in laser vision correction for people who have always wanted freedom from eye glasses and contact lenses, but may have been scared of the LASIK procedure
Atlanta, GA (PRWEB) May 01, 2017
Dr. Farooq Ashraf, medical director of the Atlanta Vision Institute, is pleased to announce that starting May 1, he will be offering the SMILE procedure to patients wishing to reduce or eliminate myopia (nearsightedness). SMILE – short for Small Incision Lenticule Extraction – is an innovative, new method of performing laser eye surgery which combines the benefits of PRK (photorefractive keratectomy) and LASIK (laser-assisted in-situ keratomileusis).
Like LASIK, SMILE surgery is bladeless, however it requires no laser tissue ablation. Like PRK, SMILE is "flapless" (meaning no large flap is created), which contributes to quicker healing, and may make it a viable option for patients who have thin corneas and cannot undergo LASIK.
"Being both bladeless and flapless, SMILE has the potential of being a safer procedure than LASIK, with less pain and discomfort than either PRK or LASIK," Dr. Ashraf says.
SMILE was developed by Zeiss, a German manufacturer of optical systems and lasers. This technology was approved for use in the United States by the Food and Drug Administration in September 2016. The Atlanta Vision Institute is among the first eye clinics in the U.S. and the first in Atlanta to perform this procedure commercially.
Dr. Ashraf has experience performing SMILE overseas. He is the medical director of the Atlanta Vision Clinic in Dubai, UAE. Dr. Ashraf introduced SMILE to his patients there when the UAE approved the technology many years ago.
During the SMILE procedure, computer-guided, highly-focused laser light is used to create a lenticule (a disc-shaped piece of tissue within the cornea), which is then extracted through a tiny keyhole incision. This removal of tissue reshapes the cornea, correcting the nearsightedness. SMILE surgery takes less than 5 minutes, with minimal recovery time afterwards; most patients are able to resume regular activities within 24 hours after treatment.
"SMILE is a groundbreaking milestone in laser vision correction for people who have always wanted freedom from eye glasses and contact lenses, but may have been scared of the LASIK procedure," Dr. Ashraf says. "SMILE adds an additional treatment modality and I am very pleased to be able to offer this technology to my patients in Atlanta."
To learn more about SMILE bladeless, flapless laser vision correction, or to schedule a consultation with Dr. Ashraf, please call the Atlanta Vision Institute at (770) 622-2488 or visit the Atlanta Vision Institute's website at https://www.atlanta2020.com/.
About the Atlanta Vision Institute:
Dr. Ashraf is the founder of the Atlanta Vision Institute and is a board-certified ophthalmologist who specializes in corneal and refractive surgery, as well as other treatments for astigmatism, glaucoma, cataracts and other eye conditions. He obtained his advanced training in ocular surgery at Johns Hopkins University and has performed over 40,000 LASIK procedures. In addition to his Atlanta practice, Dr. Ashraf has also founded the Atlanta Vision Clinic in Dubai, UAE. For more information, visit https://www.atlanta2020.com/.