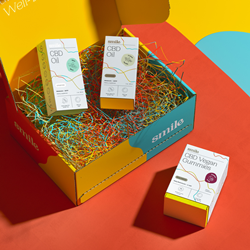 LOS ANGELES (PRWEB) May 08, 2020
California based CBD brand with the 19th most hash-tagged Instagram username "@smile" is proud to donate 100% of its profits to the United Nations Foundation COVID-19 Fundraiser.
"In tough times we have to pull together to support one another and our company is honored to be in a position to donate our profits towards the UN's Fundraiser to help those in need of assistance during this absurdly stressful period of time," says David Jiang Founder and CEO of Smile. "CBD and smiling are both natural mood boosters with positive effects on mental health and wellbeing, so if you are looking to boost your system while also supporting a good cause check out our website to order products," adds Jiang.
One of the most nutritious plants in the world is HEMP and Smile's CBD works to support immunity as well as aid in everything from lack of sleep, low mood, stress-reduction, and pain. All Smile products are certified vegan, non-GMO, gluten and cruelty-free, and organically grown from hemp in the USA and Certified CGMP. Smile multivitamin gummies are available in a delicious natural Passion Fruit flavor. They additionally sell tinctures which are available in flavors ranging from Mighty Mango, Zesty Lemon, French Vanilla, and Mint Bliss. The multivitamins include 9 of the most commonly lacking nutrients and minerals in the average American diet, and customers have said they taste so good they can't believe they have CBD in them. Smile tests every batch and guarantees the level of CBD with a Certificate of Authenticity (COA). Smile's founder claims that he's lab tested various brands on the market and the results came back indicating that less than half of the amount of CBD advertised is in the product. Smile guarantees that every batch of their product is tested to the highest standard so that their customers can rest assured they're getting a proper, potent serving in every dose.
Inspired by Tesla and Apple, Smile's founder David Jiang, says that there isn't one singular brand that people trust when they think of CBD. He adds, "My ultimate goal is for people to associate Smile as being the trusted CBD brand." "To do that I knew I had to create a brand that changes people's association to taking vitamins and nutritional products. The products needed to be of the highest quality while also tasting so unbelievably good that people actually looked forward to taking them," said Jiang.
Smile is a CBD brand that supplies the best tasting, highest quality ingredients to help keep you centered, at peace, and happy! According to research, CBD and the physical act of smiling have the same powerful positive effects on your mental health. Learn more by visiting: http://www.reasontosmile.com.
Media Contact: press@reasontosmile.com