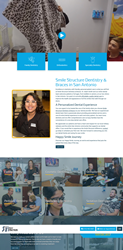 It is an honor to be recognized as a Top Patient Rated Dentist by Find Local Doctors. We strive to create a culture at Smile Structure Dentistry & Braces that provides a one-of-a-kind dental experience driven by personalized service and our patient-centric approach, says Dr. Adam Smith
SAN ANTONIO (PRWEB) January 06, 2020
Find Local Doctors is a trusted online directory that helps consumers easily locate qualified and reputable physicians and dentists in their area. Smile Structure Dentistry & Braces is among an elite group of dental practices receiving a large number of five-star, positive patient reviews from reputable online sources. Excellence in dentistry, with friendly and personalized patient care, is what you will find at the Smile Structure Dentistry & Braces locations in San Antonio. Dr. Adam Smith and his team of dental professionals welcome patients of all ages, offering services for the entire family, including pediatric dentistry, cosmetic dentistry, restorative dentistry, sedation dentistry and orthodontics.
"It is an honor to be recognized as a Top Patient Rated Dentist by Find Local Doctors. We strive to create a culture at Smile Structure Dentistry & Braces that provides a one-of-a-kind dental experience driven by personalized service and our patient-centric approach," says Dr. Adam Smith
You can expect a welcoming, relaxing environment every time you visit for routine checkups, cleanings, tooth repairs or other dental services. The dental team's mission is to provide affordable, quality care, treating each patient like family. Smile Structure Dentistry & Braces provides advanced dental technology and affordable options to ensure patients receive the best dental services in San Antonio. Multiple reviews on the practice have included feedback about the outstanding comfort and convenience that Smile Structure Dentistry & Braces delivers. Many patients have commented on how the dental team listens to their concerns and goes the extra mile to make them feel at ease during dental treatments.
More about Smile Structure Dentistry & Braces:
Smile Structure Dentistry & Braces treats patients at two convenient locations in Northwest San Antonio at 6035 NW Loop 410, Suite 107 and in South San Antonio at 3454 Roosevelt Avenue. The modern, state-of-the-art dental practice is equipped to address all aspects of oral health at every stage of life. Smile Structure Dentistry & Braces offers a full menu of dental services and advanced, cutting-edge treatments to help patients attain healthy, balanced and beautiful smiles.
For more information about the services offered at Smile Structure Dentistry & Braces or to schedule an appointment at one of the two locations, visit the practice website at http://www.smilestructure.com or call (210)-982-0681.