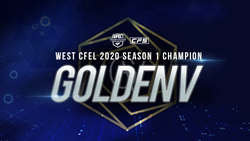 TORONTO (PRWEB) June 25, 2020
Smilegate Entertainment has officially announced that the prestigious European team 'GOLDEN V' has won the championship of WEST CFEL 2020 Season 1 on June 13th, 2020.
The top four teams GOLDEN V, REDEYES Hawks, ALL TALENTS, & Anubis Gaming participated in the playoffs of this tournament. The competition was held in a single elimination format in which the winner of each match would advance to the next round until the finals.
As a result, 'GOLDEN V' who took the 1st place in the regular season, had to play only one match in the finals against 'ALL TALENTS' who had made it all the way from Third Place and Semifinals match. The final score between these two titans was 3 to 1 (10:0, 11:13. 10:5, 10:4) in favor of 'GOLDEN V' as 'ALL TALENTS' struggled with their strategy and lack of stamina. 'GOLDEN V' ended up taking 12,500 US Dollars as their prize money.
During the finals match, 'GOLDEN V' showed a very stable game through their star players 'Seven' Luca Bayati and 'KREEDZ' Dominic Kottnauer. On top of this, 'pew' Niklas Streit performed outstandingly in set 1 which paved their way to victory. 'GOLDEN V' has definitely gotten stronger in the last few months and many assume that their roster change after CFS 2019 is the main reason.
This tournament was set up and played online due to the worldwide COVID-19 which did not allow players from different regions such as North America, Europe, and the MENA region to gather in one place. Nonetheless, the players have expressed their gratitude towards the fact that the competition was held and have shown even greater focus and passion during this tournament.
"We had many concerns about the tournament due the fact that the WEST CFEL 2020 Season 1 was held online, but thanks to the active participation of the players the tournament was a success," said Brady Yeo, Head of CROSSFIRE esports in Smilegate Entertainment. "I would like to congratulate the winners of the tournament 'GOLDEN V' for their performance and I would like to assure our fans around the world that we will continue to do our best to create the best tournaments."
Meanwhile, the BRAZIL CFEL 2020 Season 1 playoffs will be held on June 19th. For more details about the this tournament, please visit the official website. (http://www.crossfirestars.com)