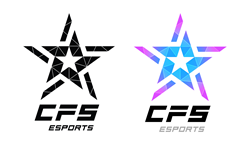 CFS plans to strengthen and further develop its esports brand through the launch of its new logo and aims to cover all the CROSSFIRE's IP based games
TORONTO (PRWEB) November 09, 2018
Smilegate Entertainment has officially announced the launch of its new global esports brand 'CFS,' standing for CROSSFIRE STARS, along with the demonstration of a new visual identity. The new CFS logo is characterized by three main symbols that emerge from the lines & shapes: star, firework, and competition.
The star symbolizes all the stars that make up CFS, including the champions, players, and fans who actively support CFS. In addition, the lines formed from the middle towards the outside symbolize a firework, which signifies the events, festivities, and tournaments of CFS. Finally, the competition shape represents the endless challenges and confrontations that players face with each other.
Smilegate plans on changing the color of the logo every year in order to incorporate a yearly identity to its tournaments. With this change of logo, Smilegate is taking one step further to develop CROSSFIRE esports.
The CFS 2018, taking place at Taicang & Nanjing, China, will be the biggest global tournament of this year, with 16 teams participating from around the world along with an Egyptian team for the first time in CFS history.
"CFS plans to strengthen and further develop its esports brand through the launch of its new logo and aims to cover all the CROSSFIRE's IP based games," said Brady Yeo, Head of CROSSFIRE esports in Smilegate Entertainment. "This new logo will serve as a stepping stone to keep evolving, and we look forward to your continuous love and support."
Further details on the new logo can be found in the official website (http://www.crossfirestars.com/kr/index)