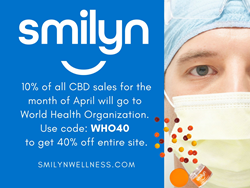 Smilyn wants to be a part of the global community rally behind the true heroes of the pandemic, the health care professionals who are fighting on behalf of us all
SAN DIEGO (PRWEB) April 02, 2020
California CBD brand, Smilyn Wellness, is donating 10 percent of all proceeds until May 1st to the COVID-19 Solidarity Response Fund launched by the World Health Organization (WHO).
Additionally, Smilyn Wellness is offering a 40 percent sitewide discount with code WHO40.
"Smilyn wants to be a part of the global community rally behind the true heroes of the pandemic, the health care professionals who are fighting on behalf of us all," stated Brett Weiss, CEO of Smilyn Wellness.
"We are grateful for those combating on the front lines during the COVID-19 pandemic. We thank them for their extraordinary commitment and courage, and there is no greater satisfaction than to support them."
By donating to the vitally important Solidarity Response Fund, Smilyn Wellness will support the World Health Organization (WHO) in getting essential supplies to health care workers on the frontline, safeguarding communities with the latest coronavirus information, and fast-tracking efforts to acquire life-saving treatments.
World Health Organization (WHO) Relief Efforts —
COVID-19 is spreading profusely around the globe. The World Health Organization (WHO) is organizing the global effort — assisting countries to prevent, detect, and respond to the pandemic.
WHO and its partners launched the COVID-Solidarity Response Fund to fund the activities of the Strategic Preparedness and Response Plan, which includes:

Organizing activities to track and understand the spread of the virus
Buying and shipping critical supplies including masks and protective wear for hospitals
Delivering evidence-based guidelines and advice to ensure health workers and responders receive critical information and training to detect and treat affected patients
Producing guidance to prevent the spread and prevent themselves and others
Accelerating efforts to develop vaccines, tests, and treatments
The WHO — as the global guardian of public health, requires adequate, predictable and flexible backing, including innovative investment models and various funding streams to remain agile in its work with partners to create health and well-being for all.
Shop Smilyn CBD and Make a Difference —
Smilyn Wellness is among the various brands giving back and donating proceeds to coronavirus relief efforts. The California CBD wellness brand delivers the highest-quality CBD products for those seeking alternative solutions to combat medical conditions.
CBD is more than just dosing, it's a lifestyle. A lifestyle that promotes longevity for every person (and every pet).
Products include CBD tinctures, gummies, softgels, roll-ons, face masks, salve, sprays, and CBD pet products. Shop now — 40 percent sitewide discount with code WHO40.
About Smilyn Wellness
Smilyn Wellness in California is a CBD-wellness brand simplifying the benefits of premium hemp extract. We exist to revolutionize. We exist not only to help individuals look and feel amazing — but also smile throughout the adventures of life. Combining scientific data with health-based knowledge, Smilyn offers a portfolio of CBD products that are trustworthy, tasty, and geared toward an active new-age lifestyle.