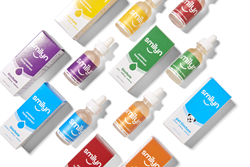 The coronavirus dangers are real. It's a critical time in the world. We want everyone to have access to premium-quality CBD products that help curve anxiety and give individuals a reason to smile in times of desolation. Take the Smilyn challenge
SAN DIEGO (PRWEB) March 23, 2020
California CBD brand, Smilyn Wellness, unveils an exclusive BOGO pay-it-forward challenge amid the coronavirus pandemic. The 'Buy One Tincture - Give One Tincture' campaign runs from March 23 to April 20.
Despite social isolation, we think it's important, now more than ever, to be able to connect in other ways — like simple acts of giving.
It's easy to place an order online. Select from a mixture of Smilyn CBD tincture flavors — signature grape, salacious blueberry, mighty mint, zesty orange, comforting cinnamon, and the zippy boldness of lemon. For every tincture you purchase, we will ship one tincture to the person of your choice. We are offering free shipping on every order.
"They say it takes two to tincture [chuckles]. Smilyn certainly doesn't want to come up one short in this time of need. The coronavirus dangers are real. It's a critical time in the world. We want everyone to have access to premium-quality CBD products that help curve anxiety and give individuals a reason to smile in times of desolation. Take the challenge. Even one small act of generosity can change lives," stated Brett Weiss, CEO and Co-founder of Smilyn Wellness.
Why Smilyn CBD is Offering BOGO Campaign —
The Smilyn team understands the mounting COVID-19 crisis is something we've never witnessed before in our lifetime. Part of the expanded response is practicing social distancing, and in some states, stay at home measures have been ordered.
With concerns over scarce items at the grocery stores and comfort-zone commonplace closures — many individuals are in a frenzy. The pandemic has upended the lives of millions. Anxiety, stress, confusion, anger, insomnia, irritability, OCD, and panic has set in. Our nation is being tested on every level — from human kindness to financial adversity to emotional distress.
For the Smilyn CBD brand, these concerns evoked us to change the narrative by transitioning social distancing to social creativity. We recognize restoring any normalcy only exists by serving a socially greater purpose. We call it paying it forward — one action, one tincture at a time.
It Takes Two to Tincture —
Smilyn Wellness unveils 'Buy One Tincture - Give One Tincture' to stream simple acts of kindness back into a vulnerable population. It also allows individuals to tame anxiety and stress due to fear of the unknown and provides immediate access to therapeutic alternatives to medications.
Fast-absorbing and easy to use, the multi-flavor concoctions of lab-tested CBD tinctures quickly calms tension and turns it into peaceful, relaxed energy.
Smilyn CBD goes beyond dosing. It sets the stage for an active lifestyle — a lifestyle that promotes longevity for every person and every pet. We understand, physical health and longevity are connected to giving. The leading CBD brand in California wants everyone to experience the undeniably delicious, game-changing fruity tastiness of Smilyn CBD tinctures — and give forward.
Random acts of kindness can make someone's days. Start a chain reaction of good vibrations. And remember, the secret to longevity is Smilyn.
About Smilyn Wellness
Smilyn Wellness in Carlsbad, California, is a CBD-wellness brand simplifying the benefits of premium hemp extract. We exist to revolutionize. We exist not only to help individuals look and feel incredible — but also smile throughout the journey of life. Combining scientific data with health-based knowledge, Smilyn offers a portfolio of CBD products that are trustworthy, tasty, and geared toward an active new-age lifestyle.