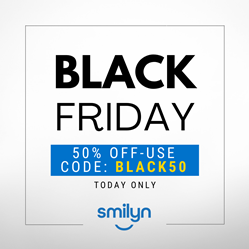 Our massive Black Friday promotional sale offers customers the best deal sitewide including Delta 8, Delta 10, THC-O, HHC, and hemp-derived Delta 9
CARLSBAD, Calif. (PRWEB) November 26, 2021
Smilyn Wellness announces huge sitewide Black Friday sale. The top CBD and Delta 8 brand is offering 50 percent off sale with code BLACK50. Don't miss out on this super sale.
"Our massive promotional sale offers customers the best deal sitewide including Delta 8, Delta 10, THC-O, HHC, and hemp-derived Delta 9," stated Brett Weiss, CEO and Co-Founder of Smilyn Wellness.
"It has been a rough couple of years adjusting to a new way of living during the pandemic, but despite the struggles, our Smilyn customers stayed loyal. They never wavered in their support, and we just want to express our utmost gratitude with the biggest sale of the year," Weiss added.
Friday Blowout Sale —
Black Friday, the day after Thanksgiving, is one of the largest deal-shopping events of the year. Every major retailer offers big discounts — and Smilyn Wellness in no exception.
Today is the best opportunity to score BIG on the Smilyn Wellness collection of products. The Smilyn product line includes CBD tinctures, gummies, soft gels, roll-ons, salve, and CBD pet products. HHC disposable vapes pens join the lineup of crave-worthy Delta 8, THC-O, and Delta 10 disposable vapes — along with Delta 8 tinctures, gummies, shots, concentrates, chocolates, and pop rocks.
HHC Disposable Products —
Among the wave of hemp-derived cannabinoids including Delta 8, Delta 10, and THC-O — HHC is the new kid on the block — and the most powerful. HHC (Hexahydrocannabinol) disposable pens are made of HHC and terpenes. The rare and exotic new hemp-derived cannabinoid introduces euphoric feelings which can be hugely beneficial for many users.
Available flavors: Peach Crescendo, Super Glue, Slurricane, Candy Land, Mimosa, and Cherry Blossom.
Smilyn Wellness is a lifestyle brand — a lifestyle that promotes longevity for every person (and every pet). Shop now -- 50 percent discount with code BLACK50.
About Smilyn Wellness
Smilyn Wellness in California is a CBD-wellness brand simplifying the benefits of premium hemp extract. We exist to revolutionize. We exist not only to help individuals look and feel amazing -- but also smile throughout the adventures of life. Combining scientific data with health-based knowledge, Smilyn offers a portfolio of hemp-derived CBD and Delta 8 products that are trustworthy, tasty, and geared toward an active new-age lifestyle.