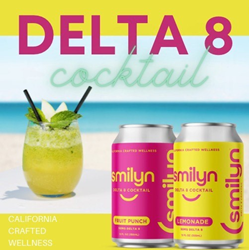 With our new product, we are hoping to reach next-level success by combining summer classics and ready-to-drink Delta 8 cocktails
CARLSBAD, Calif. (PRWEB) June 22, 2022
Smilyn Wellness is now offering a line of Delta 8 Cocktails — Lemonade and Fruit Punch. The cocktails are available in 4-packs.
The new cocktails, inspired by our favorite summertime thirst-quenching beverages, include can designs with eye-catching, bright colors.
"With our new product, we are hoping to reach next-level success by combining summer classics and ready-to-drink Delta 8 cocktails. With so much happening in the canned beverage space, we also wanted to give our fans a cocktail bar experience," stated Brett Weiss, CEO and Co-Founder of Smilyn Wellness.
Delta 8 Cocktails —
The best cocktails begin with Smilyn Wellness. Smilyn Delta 8 Fruit Punch Cocktail is a blast of your favorite fruits together in one beverage. Fruity and refreshing — get ready for a PUNCH of fruit. This Delta 8 Fruit Punch Cocktail charges the mind with creative and social energy.
Smilyn has also added Delta 8 to the famous fresh and light lemonade beverage. Smilyn Delta 8 Lemonade Cocktail has bright color, FRESH flavor, and the perfect balance of tart and sweetness — giving you vacation vibes and smiles all-year round.
Details: 50mg Delta 8 THC per 12 oz. can
Flavors: Fruit Punch, Lemonade
Suggested Use: We recommend drinking 1/4 serving when starting.
Smilyn Wellness Premium Portfolio —
The new cocktails allow the Smilyn brand to further grow its premium portfolio by attracting new customers to its brand. Celebrating their next stage of growth with the addition of these new cocktails — Smilyn continues to evolve the Delta 8 industry while elevating the ready-to-drink cocktail space.
WARNING: Do not drive or operate machinery while using this product. Do not use if you are pregnant, nursing, or if you have any diagnosed or undiagnosed health issues. Must be 21 years of age to purchase or use. Keep out of reach of children.
About Smilyn Wellness
Smilyn Wellness in California is a CBD-wellness brand simplifying the benefits of premium hemp extract. We exist to revolutionize. We exist not only to help individuals look and feel amazing -- but also smile throughout the adventures of life. Combining scientific data with health-based knowledge, Smilyn offers a portfolio of hemp-derived CBD and Delta 8 products that are trustworthy, tasty, and geared toward an active new-age lifestyle.