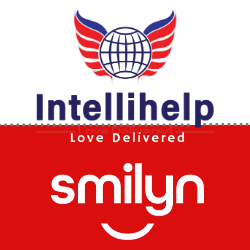 All challenges are opportunities for us to unite and support our communities in San Diego. Our goal is to continually tie the community into everything we do — as helping others is what gives the Smilyn team purpose
SAN DIEGO (PRWEB) May 11, 2020
California CBD brand, Smilyn Wellness, is donating 10 percent of all proceeds until May 31st directly to Intellihelp participants in need — families in great distress during this coronavirus pandemic.
In addition to its partnership with Intellihelp, Smilyn Wellness is offering a 30 percent discount sitewide with code GIVE30. Consumers can shop CBD tinctures, gummies, softgels, roll-ons, face masks, salve, sprays, and CBD for pet health.
"Smilyn Wellness is focused on giving back to the community during this horrendous pandemic. Our goal is to be a trusted lifeline for so many Southern Californians, and we are excited that this new collaboration with Intellihelp will bring vital, lifesaving help directly to those in need," stated Brett Weiss, CEO of Smilyn Wellness.
Through this unique partnership with Intellihelp, ultimately driven by empathy, equity, generosity, and care during a crisis, Smilyn Wellness can promptly respond to community members (and their pets) who need essentials as a result of the COVID-19 pandemic — while respecting privacy and social distancing.
Who is Intellihelp?
Intellihelp is a globally networked community providing 100 percent direct donor-to-recipient giving. The grassroots movement removes fear, worry, and isolation — and replaces it with the power of humanity.
Created on the first day of the COVID-19 crisis in North America, Intellihelp now has more than 67,000 members who have joined in the mission of supporting one another.
The platform has facilitated over 5,000 donated deliveries of essentials to neighbors in need, including 4,000 weeks of groceries to families in need — equivalent to feeding one family for an entire lifetime.
Intellihelp delivers love — compassion, a fearless commitment to help those in need.
Shop Smilyn CBD and Make a Difference
Smilyn Wellness is among the many brands giving back and contributing proceeds to coronavirus relief efforts. In April, the CBD wellness brand donated $1,000 to the COVID-19 Solidarity Response Fund launched by the World Health Organization (WHO).
Smilyn has pledged to continue its mission of helping families struggling during this pandemic by donating 10 percent of all proceeds through May 31st to help families found through the Intellihelp platform.
"All challenges are opportunities for us to unite and support our communities in San Diego. Our goal is to continually tie the community into everything we do — as helping others is what gives the Smilyn team purpose," stated Smilyn Wellness executives.
CBD is more than just dosing, it's a lifestyle. A lifestyle that promotes longevity for every person (and every pet). Shop now — 30 percent sitewide discount with code GIVE30.
About Intellihelp
Intellihelp is a global exchange providing empathy, equity, generosity, and care in times of crisis. In response to the global COVID pandemic, Intellihelp sprouted wings as a grassroots, peer-to-peer community of neighbors helping neighbors. This community provides essential food and OTC medications to those most in need across 8 countries.
About Smilyn Wellness
Smilyn Wellness in California is a CBD-wellness brand simplifying the benefits of premium hemp extract. We exist to revolutionize. We exist not only to help individuals look and feel amazing — but also smile throughout the adventures of life. Combining scientific data with health-based knowledge, Smilyn offers a portfolio of CBD products that are trustworthy, tasty, and geared toward an active new-age lifestyle.