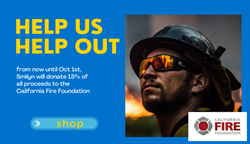 For us here at Smilyn, there was no hesitation, no question, no doubt whether or not we should contribute to the Wildfires Relief Fund
San Diego, CA (PRWEB) September 14, 2020
California CBD brand, Smilyn Wellness, recognizes the immediate need to support the communities affected by the fires.
Through October 1st, Smilyn is donating 15 percent of all proceeds to the California Wildfire Relief Fund. Since the Wildfire Relief Fund opened in 2003, they have granted more than $24 million to support relief and recovery efforts in the aftermath of devastating wildfires.
"Firefighters are heroes. Imagine actively risking your life and being away from your loved ones to protect your communities from these outrageous fires. There is simply no magical expression to define that type of bravery. It is unreal to me," stated Brett Weiss, CEO and Co-Founder of Smilyn Wellness.
"For us here at Smilyn, there was no hesitation, no question, no doubt whether or not we should contribute to the Wildfires Relief Fund. I hope to inspire other brands to do the same. While it's no comparison to what the firefighters are battling up and down the West Coast or what the victims of these fires have endured, the Smilyn team is committed to helping in any way we can."
Latest Updates on California Wildfires —
California has been hit hard with devastating wildfires and other natural disasters in both northern and southern California.
Over 16,000 firefighters are working to secure containment on the 28 major wildfires across
California. Since the beginning of the year, wildfires have burned over 3 million acres in California. The acres burned this year are 26 times higher than the acres burned in 2019 for the same time period.

3,154,107 Acres Burned
7,718 Number of Wildfires
20 Fatalities Confirmed Loss of Life
For more information, visit the Daily Wildfire Report.
Shop Smilyn Hemp-Derived CBD Products —
The Smilyn Wellness brand has a long history of giving back and supporting organizations. Smilyn not only encourages consumers to live an active lifestyle, provides industry-leading guidance, and highly desirable hemp-derived CBD products — but most importantly gives back to local communities.
We hope everyone will help us put out the fires and give back to those in need during this critical time. Shop CBD tinctures, gummies, softgels, roll-ons, salve, and CBD for pet health as we donate 15 percent of all proceeds to the California Wildfire Relief Fund.
About Smilyn Wellness
Smilyn Wellness in California is a CBD-wellness brand simplifying the benefits of premium hemp extract. We exist to revolutionize. We exist not only to help individuals look and feel amazing — but also smile throughout the adventures of life. Combining scientific data with health-based knowledge, Smilyn offers a portfolio of hemp-derived CBD products that are trustworthy, tasty, and geared toward an active new-age lifestyle.