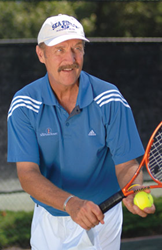 I've been lucky to see some of the best women's tennis players like Chris Evert, Martina Navratilova, and Steffi Graf crowned champion on the courts at Sea Pines. Perhaps another all-time great will be among the young ladies competing in this tournament
Hilton Head Island, SC (PRWEB) November 04, 2016
Many of the top American junior tennis players will take to the courts of The Sea Pines Resort as Smith-Stearns Tennis Academy hosts a girls USTA National Selection Tournament for the 16U and 14U age divisions. Taking place November 5-7, the tournament is the first of its kind hosted at The Sea Pines Resort which has seen its fair share of high-level tennis over the years.
Thirty-two players were selected for both the Girls 14U draw and the Girls 16U draw based on their national rankings with the United States Tennis Association. The sixty-four participants represent seventeen different states and ten of the USTA's seventeen regional sections. Smith-Stearns coach and tournament director Worth Richardson notes "It's incredibly exciting to have top American players competing on the island from places as far as New York, Colorado, and Texas. Hosting these players certainly solidifies the position of Hilton Head Island, The Sea Pines Resort, and Smith-Stearns Tennis Academy on the national tennis scene."
The player field will also be highlighted with local talent as well. Kylie Collins, ranked 18th nationally in the 14U division, hails from Savannah and trains at Smith-Stearns. She is joined by other locals who train at the academy, Avery Durham and Mary-Grace Armistead, both ranked in the top 80 nationally. These young ladies are joined by Madison Dillon, Sayda Hernandez, and Anna Letto who also reside in the Lowcountry.
The 16U division is highlighted by perhaps the hottest player coming into the tournament. Briana Crowley, ranked ninth nationally, the Indiana resident who trains year-round at Smith-Stearns will also be the division's top seed. She is coming off a fourth-place finish at the USTA National Clay Court Championships this past July and finished second at the USTA National Doubles Championship in August partnering with fellow entrant and Smith-Stearns pupil, Ali DeSpain.
Commenting on the event, long-time resident of Hilton Head and academy co-owner, former world No. 1 Stan Smith, says "In my time on the island I've been lucky to see some of the best women's tennis players like Chris Evert, Martina Navratilova, Steffi Graf, and Martina Hingis crowned champion on the courts at Sea Pines. Perhaps another all-time great will be among the young ladies competing in this national tournament."
With spectators welcome, play begins Saturday, November 5 at 8:15am with both doubles and singles action scheduled and continues daily until champions are crowned Monday, November 7. For further tournament information visit the tournament website.