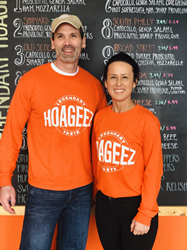 "The West Shore Plaza has been a shopping destination for 65 years, and we're thrilled to welcome another dining selection and small business to our tenant family."
CAMP HILL, Pa. (PRWEB) April 23, 2019
Hoageez, an award-winning Philadelphia-inspired hoagie shop, is debuting its second central Pennsylvania location at the West Shore Plaza in Lemoyne with plans to open in May 2019.
"The West Shore Plaza has been a shopping destination for 65 years, and we're thrilled to welcome another dining selection and small business to our tenant family. With more than 35% of Plaza tenants serving food, we're becoming a favorite food destination," says Rick Jordan III, President & CEO of Smith Land & Improvement Corporation, owner and manager of the West Shore Plaza.
Influenced by Philadelphia's dynamic food scene, husband and wife team Mike and Linda Martin opened their first Hoageez in Hummelstown, Pennsylvania in 2012. After many family trips to Philadelphia, the Martins decided to offer authentic hoagies to their central Pennsylvania neighbors and Quaker City enthusiasts. With menu options such as the Rocky, South Philly, Broad Street, and Philly Fanatic, Hoageez ensures The City of Brotherly Love's flavor influence is alive and well in the Midstate.
Ranked #1 on TripAdvisor out of 35 restaurants for lunch, winner of the PennLive.com Sandwich Showdown, and winner of Best Lunch in Central PA by Central PA Magazine, Hoageez is proud of its passionate and growing fan following.
"We serve what we love, and we choose the finest meats, cheeses, and fresh produce to live up to the Hoageez reputation. Our made-from-scratch rolls are delivered daily from Philadelphia and when the rolls are gone, we close for the day. We promise to never sell a day-old roll! Legendary Taste is what we live by," says Mike Martin, who left a career in finance to open the shop. "Whether it's a protein-packed hoagie or fresh pretzel braid, we're confident everyone in your family can find a sandwich they love."
The Martin family believes Lemoyne is the perfect destination for their second Hoageez location. "Lemoyne reminds us of Hummelstown the way the community rallies behind local entrepreneurs," says Mike. "Small business thrives in places where there is an advocate and a champion. Rick Jordan III is both."
The West Shore Plaza's tenant mix boasts more than 50% small businesses. One click on the West Shore Plaza social media channels showcases the tribe of followers supporting the small shops and anchors at 1200 Market Street. Located between Just Plain Yoga Studio and Goodwill Keystone Area, the nearly 1,000 SF space is being renovated into a Philly hoagie haven and will provide five to six new jobs to the Lemoyne community.
"This location will have a small counter and a few tables for dining in, but our business is primarily take-out and quick service," says Linda Martin.
The West Shore Plaza Hoageez location will be open Monday through Saturday, 10 a.m. to 3 p.m., and closed on Sundays. All orders are made fresh on-site and include Dietz & Watson and Frida meats and cheeses. "We use Pennsylvania-sourced ingredients and partner with legendary Pennsylvania companies. We never sacrifice quality. Some places talk fresh; we slice it," says Mike.
For updates on the Hoageez store opening at the West Shore Plaza, visit Facebook, Instagram, and Twitter.
ABOUT WEST SHORE PLAZA
Celebrating 65 years of retail services to the community, this landmark center sits on two high-traffic corridors connecting Harrisburg to the West Shore. With an attractive façade, easy access, and a striking digital sign, the West Shore Plaza continues to maintain high shopper volume and be a recognized shopping and event destination. A treasured community asset, the 24-store property featuring local and national retailers, as well as family businesses, champions bringing people together with special events like the Wicked Spooky Party and Healthy Neighbors Fest.
ABOUT SMITH LAND & IMPROVEMENT CORPORATION
Founded in 1961, the company has a 58-year history of responsible and responsive commercial real estate development and land ownership. With a portfolio of nearly 50 properties and over 1 million SF throughout the Mid-Atlantic, the Smith Land team has chosen to concentrate 80 percent of its real estate investments in their own "front yard" of central Pennsylvania. When Smith Land & Improvement Corporation is the developer, business owners and investors can expect a productive working relationship, high-caliber site selection, and easy access to business expansion.