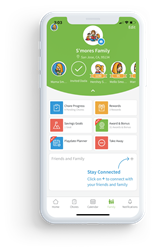 LOS ALTOS, Calif. (PRWEB) January 17, 2020
S'moresUp (smoresUp.com), a family app that uses Silicon Valley tools like like data-driven decisions and predictive analysis to help 200,000 family members optimize their household and teach their kids critical life skills by using behavior analysis, has just launched its Premium offering as it transitions into "Smart Parenting."
Modern technology and software development has changed at lighting speed, but parenting hasn't caught up. Parents are still using dry erase boards, printable charts, markers and stickers and ideas from past decades to teach kids critical life lessons like financial management, self-discipline, forming good habits, and online safety. What's more, it's challenging for non digital native parents from earlier generations to know how to manage modern screen time.
Now boasting a 4.5-star rating on both Android and iOS and growing to 200,000 family members in just one year, the latest S'moresUp app Premium offering launches a new "Digital Health" category to teach kids how to self-manage screen time, based on safe screen time recommendation from the Academy of Pediatrics; Sets reminders or reassigns chores to a single or a group of family members; Establishes "Clear Rewards" that teaches responsibility with a penalty for late completion; Creates birds eye view of goals and rewards history to analyze long term behavioral trends like speed of task, completion to set long term goals and seeing where kids are struggling the most, and much more.
"We created this app out of necessity," said Priya Rajendran, CEO, and Co-Founder of S'moresUp, and single working mom of a teenager. "Silicon Valley has been using and perfecting these tools for years but when I was looking for a similar tool to manage my family, I couldn't find one. So we built one trying to solve the problems I was seeing in my household, and are now perfecting it using the feedback from our users who are parents."
S'moresUp:
Helps Kids Learn Critical Life Skills
Tasks and chores that can be assigned on the app teach life skills and healthy habits, like getting enough sleep, being disciplined about screen time limits, getting enough outside time, finishing projects, learning how to save and spend, and more.
Does Behavior Analysis To Provide Parents with Insights Around Their Kid's Learning
Based on the data from chore completion and reward/goal practices, performs trend analysis and highlights critical learning metrics for kids.
Creates Goal Settings through Rewards and Goals
Kids learn about "Smart Spending" through "Rewards" and the power of delayed gratification with goal setting and begin to understand the benefits of spending and saving through simple hands-on exercises.
Helps Kids Form Long Term Habits Through Advanced Analytics
Monthly analytics reports show which tasks kids have done, how many rewards they have received, and the speed of completion. It catches long term behavioral trends or red flags parents can watch out for.
Creates a Fail-Safe Calendar System
A calendar that all family members have access to that cuts back on forgotten appointments and scheduling chaos. It creates an opportunity to practice self-management for young adults.
Creates A Walled Off Family Environment
It's a safe, walled-off family environment for secure, private family member collaboration, with no ads and where a family's data belongs only to them.
The app has been well-received by families. As one reviewer of the app writes, "It's like having a tech-savvy family member helping me stay on top of this parenting thing." A second user writes, "A fantastic app that has really helped to make my kids more accountable and cut back on screen time! I highly recommend it. You can personalize the chores and rewards to fit your family and there is a community board that is so helpful!"
"Parents deserve a modern family management system built for the 21st century and beyond," said Reeves Xavier co-founder of S'moresUp. "We are looking to eliminate the most mundane tasks of parenting like reminding and remembering, and replacing it with data-driven parenting that helps families run their households efficiently."
About S'moresUp
S'moresUp is a family organizer that creates data-driven parents. It provides parents tools to help their kids learn critical life skills and healthy habits while managing chores, allowances, and schedules through a secured private family network, where a family's data is safe. The app, which helps raise independent, responsible, and financially savvy kids, was founded by technology veterans Priya Rajendran, a software engineer and busy mom with a background leading the PayPal Wallet team, and Reeves Xavier, former tech lead at Paypal and Intuit. To find out more, please visit http://www.smoresup.com