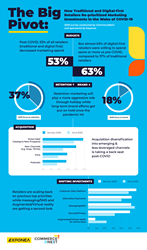 Marketers are being asked to make decisions quickly and adapt to this disruption. The data from this report tells us that the best-laid plans for 2020 had to be overhauled due to current realities.
OCEAN GROVE, N.J. (PRWEB) July 22, 2020
Retail marketers are responding to changes due to COVID-19 by spending more on technologies such as messaging/SMS platforms, augmented reality, and Artificial Intelligence (AI). In a new study of retail marketing executives conducted by CommerceNext and sponsored by Exponea, pre-pandemic data shows a healthy increase in marketing budgets in early 2020. However, the post-COVID poll of retail marketers shows that traditional retailers have seen their budgets decrease. Comparing the January survey of 111 executives with the June poll of 75 executives, CommerceNext noted an increase in investments in augmented/virtual reality from 8% to 21%. Further, investment in messaging/SMS platforms increased by five points post-COVID (51% vs. 56%). The full results are now available in a new benchmark report, "The Big Pivot: How Traditional and Digital-first Retailers Re-prioritized Marketing Investments in the Wake of COVID-19."
"While no one knows what the full impact of the COVID-19 pandemic will be on the retail industry, we know that marketers are being asked to make decisions quickly and adapt to this disruption. The data from this report tells us that the best-laid plans for 2020 had to be overhauled due to current realities," explained Scott Silverman, co-founder of CommerceNext. "To deliver useful data to our community of marketers, CommerceNext has been conducting research throughout the pandemic. It's the best way to provide retail marketers with data and relevant insights into how their peers are changing their spending due to the ongoing public health crisis."
Not All Retailers Are Decreasing Their Marketing Budgets
The study reveals that while 32% of all ecommerce marketers expected their budgets to "significantly decrease" in 2020 in the wake of the pandemic, digital-first retailers are bucking this trend. Only 15% of retailers with this business model said their budgets had "significantly decreased" due to COVID-19, and 48% of digital-first marketers actually increased their budgets. While acquisition marketing continues to be the top priority for all retailers, 37% of the respondents surveyed post-COVID-19 said they were moving more budget into retention marketing.
Insights from the report highlight some key shifts in how digital marketers are thinking about investments, including:

Retention marketing plays a more aggressive role, especially for holiday 2020. Marketers are taking a more balanced spending approach between acquisition and retention. This was a trend that began before the pandemic and continues to hold today.
Privacy and compliance take a back seat due to COVID. Since COVID-19 hit the US, there is a decrease in focus on privacy & compliance; only 15% of marketers expect to embrace efforts vs 24% before.
Brand marketing resurges, then wanes due to COVID. Before the pandemic, marketers were planning to take a more balanced approach between performance marketing and brand. Post-COVID, marketers indicated a shift back to performance, sticking with what they know to engage with customers.
Retailers are ready for unprecedented online holiday shopping demand. With "Cyber Monday"-levels of ecommerce happening every day in the month of May, 58% of retailers say they feel either "much more" or "slightly more" prepared for the 2020 holiday season.
"To compete for loyalty, e-commerce marketers must connect with consumers like never before, which requires a unified view of the customer," said Amanda Elam, CMO, Exponea. "The results of this survey show that despite COVID-19's impact on the industry, e-commerce marketing professionals are optimistic about the future."
Retail marketing experts will discuss the results of the report at the upcoming CommerceNext Virtual Summit, "Path to Recovery," July 28-29, 2020.
Methodology
On two separate occasions, CommerceNext polled senior-level digital retail leaders, including Chief Marketing Officers, Chief Digital Officers, Chief Customer Experience Officers, and Heads of Ecommerce at retailers with greater than $10 million in annual revenue. The first poll was administered in early January and completed by 111 retail leaders. The second poll was sent in June 2020 and had 75 completed responses. Representatives of CommerceNext also conducted long-form interviews with some of the respondents based on their answers.
About CommerceNext
CommerceNext is a community, event series and conference for marketers at retail and direct to consumer brands. Now in its third year, CommerceNext has grown to include webinars, virtual summits, industry research and an online community, in addition to the annual CommerceNext summit and the esteemed "CommerceNexty's Awards program. Inc. magazine named the CommerceNext Summit one of the Top 5 ecommerce conferences for 2019/2020. To learn more about CommerceNext visit https://commercenext.com.
CommerceNext Blog: https://commercenext.com/blog/
Twitter: https://twitter.com/CommerceNext
Facebook: https://www.facebook.com/commercenext/
LinkedIn: https://www.linkedin.com/company/commercenext/