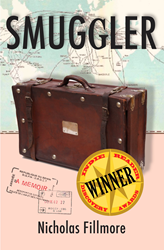 Relentless velocity … rich with cutting insight.
New York, NY (PRWEB) June 03, 2019
June 1, 2019 – New York Times bestselling author Jennifer Armentrout announced winners of the 2019 IndieReader Discovery Awards (IRDAs) at Book Expo America / Book Con in New York City today. SMUGGLER by Nicholas Fillmore won in the True Crime category.
IndieReader launched the IRDAs to help worthy indie authors get the attention of top indie professionals as well as readers. Said Amy Edelman, founder of IR, "The books that won the IRDAs this year are not just great indie books; they are great books, period." Sponsors for the awards include Amazon, IngramSpark and Kirkus. Judges included notable publishers, agents, publicists and bloggers.
The true backstory to Orange Is The New Black, SMUGGLER follows a group of young Americans from Paris to Jakarta to West Africa and ultimately prison, where the author attempts to unravel his motives for joining a criminal conspiracy.
IndieReader's reviewers describe SMUGGLER as driven by "Relentless velocity" and "rich with cutting insight." Elsewhere the book has been lauded by critics for its great writing, characterization and suspense.
Says Fillmore, "SMUGGLER was many years in the making, from the inchoate yearnings of a twenty-something, to sobered reflections of an adult. I am very happy to receive this award today, as confirmation of a life of literary effort."
Fillmore attended the graduate writing program at University of New Hampshire, was a finalist for the Juniper Prize in Poetry and published SQUiD magazine in Provincetown, MA. He currently works as a lecturer in English and reporter.
Copies of SMUGGLER are available upon request.