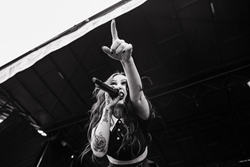 We don't use lights on this tour," he says. "The one thing that stands out is the sound, and giving these bands the best possible sound, particularly with the D1, is what it is all about.
Old Lyme, Conn. (PRWEB) August 31, 2015
As the Vans Warped Tour wraps up its 21st year, it remains not only the largest touring music festival in the United States, but also the longest running in North America. This year, the Vans Warped Tour once again lived up to that distinction, bringing 80 bands per day onto nine stages at 40 cities across the United States. On this year's Warped Tour, artists and fans were among the first to experience the latest wireless technology from Sennheiser: evolution wireless D1.
The challenges associated with a Warped Tour production are significant: there are almost non-stop artist performances, consecutive days across multiple cities and unpredictable weather. Despite this, the performance of the evolution wireless D1 system has been predictable and surefooted: "We put the D1 through some tough trials and it has held up well and sounds great," says Kevin Lyman, Vans Warped Tour Producer and CEO. "The equipment is being used by multiple bands, 12 days in a row at a time, and in all kinds of weather: we've been hit by thunderstorms, high winds and 117-degree heat indexes."
Watch a D1 highlight video of the Vans Warped Tour here: https://www.youtube.com/watch?v=GRjze-HgQCQ
The evolution wireless D1, launched at the NAMM Show last January, is an easy-to-use system for vocals and instruments that delivers extremely high quality audio — all in the 2.4 GHz range, which is license-free around the world. There is no setting of frequencies, matching of transmitters and receivers, or adjusting gain – this can all be handled automatically, making it significantly less time consuming and complex.
Going Digital With Ease at Vans Warped Tour 2015
At the Vans Warped Tour 2015, the evolution wireless D1 system was the primary wireless set-up on three different stages: the Journeys Stage, the Beatport Stage and the Warped Comedy Tent. New Years Day, an alternative pop-punk band led by energetic and alluring frontwoman Ashley Costello, churned through over 50 performances on the Journeys stage with the D1 handheld transmitter front and center, coupled with a Sennheiser e835 dynamic cardioid capsule.
Cory Johnson, FOH Engineer for New Years Day on the Vans Warped Tour, recalls his first experience on the D1: "I had just 15 minutes to set up the system and get to know it," he says. "As soon as I saw the green light come on that showed that it was synced, I was like, 'OK, let's do this!' I was listening for dropouts, clarity, and signal strength, and right off the bat, the D1 was great."
"Once we made it through the first set I knew I would be OK," he continued. "I ended up using the evolution wireless D1 for 53 days straight, and never once experienced a drop out," Johnson says. "Also, the battery life was astounding. At one point, I did a three day stretch without ever changing the batteries with no issues."
Over the course of the tour, the D1 delivered from a sonic perspective as well: "It was the Sennheiser sound that I am used to," Johnson explains. "I had an even frequency response all around and not too many highs or mids poking through." Johnson says that lead singer Costello was extremely pleased with her monitor mix. "She didn't know we were on a new system but was ecstatic with her mix on this tour. As far as I'm concerned, the microphone plays a huge role in that, so it made all the difference."
For Johnson, the most pleasing gig on the tour was in San Diego, with a California sunset as the backdrop: "This was hometown show for them, and we closed out the stage that night," he says. "Their family, manager and booking agent were all there and it really stoked their performance. Seeing them play so well and knowing Ash's lead vocal was sounding so great through the D1 was a highlight for me as an engineer."
Bringing Digital Quality to a New Generation of Artists
As another successful Vans Warped Tour wraps up, Kevin Lyman reflects on the importance of audio quality: "We don't use lights on this tour," he says. "The one thing that stands out is the sound, and giving these bands the best possible sound, particularly with the D1, is what it is all about. By having a brand like Sennheiser on board, we are bringing high-quality sound to a new generation of artists and engineers."
Johnson, meanwhile, is looking forward to his next opportunity to use the D1: "It was my first experience using a Sennheiser digital mic, and I would absolutely love to use it again," he comments. "It was so easy to sync up with the receiver and mixing the live vocal was a breeze because it was a tone that I was already familiar with."
For more information on evolution D1 wireless, please visit: http://en-us.sennheiser.com/wireless-microphone-vocal-stage-live-evolution-d1.
About Vans Warped Tour
The VANS WARPED TOUR®, presented by Kevin Lyman's 4Fini Productions, is well established as America's premier summer music and lifestyle festival. Since 1995, the tour has been a showcase for the world's hottest established and up and coming talent. The Vans Warped Tour continues to revolutionize the festival format with groundbreaking environmental and not for profit initiatives every year. Dubbed as "America's Alternative Classroom", The Vans Warped Tour prides itself on inviting attendees to take part in multiple non profit opportunities before, during, and after the events. Alternative Press readers voted the Vans Warped Tour as the "Best Tour/Festival" and Rolling Stone called "America's most successful festival".
About Sennheiser
Audio specialist Sennheiser is one of the world's leading manufacturers of headphones, microphones and wireless transmission systems. Based in Wedemark near Hanover, Germany, Sennheiser operates its own production facilities in Germany, Ireland and the USA and is active in more than 50 countries. With 18 sales subsidiaries and long-established trading partners, the company supplies innovative products and cutting-edge audio solutions that are optimally tailored to its customers' needs. Sennheiser is a family-owned company that was founded in 1945 and which today has 2,700 employees around the world that share a passion for audio technology. Since 2013, Sennheiser has been managed by Daniel Sennheiser and Dr. Andreas Sennheiser, the third generation of the family to run the company. In 2014, the Sennheiser Group had sales totalling €635 million. http://www.sennheiser.com