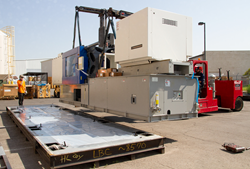 SALT LAKE CITY (PRWEB) August 10, 2020
SnapLock Industries, the manufacturer and supplier of popular brands RaceDeck Garage Floors, SnapSports Athletic Surfaces, SnapLock Dance Floors, FastDeck Rapid Deployment Flooring and DuraGrid Safety Decking & Matting, grew by two earlier this week, adding two 500-ton, 100% electric, injection molding machines to their ISO 9001:2015 quality certified facility in Salt Lake City, Utah. SnapLock, largely credited as one of the pioneers of the modular flooring industry, has led with continuous innovation and development for over three decades with multi-patented manufacturing processes and modular floor technologies.
"These are some very exciting times at SnapLock. To have the ability to increase our production output by an additional 11% is a testament to the commitment we have to our customers. Our new presses are of the highest quality and efficiency which supports our capacity needs to produce not only more products, but produce them faster," said Jeremiah Shapiro, SnapLock Vice President of Operations.
The new high-efficiency and eco-friendly presses, round out SnapLock's arsenal of 20 injection molding machines and stretch their molding capacity to well beyond current monthly production. As a leading USA manufacturer who does not outsource any part of their manufacturing, SnapLock had previously installed three new presses in 2015, however, the continued exponential increase in demand made a second expansion absolutely necessary. The new machines are not only faster, they are far more energy efficient. Manufacturing 24 hours a day, 7 days a week, SnapLock is the world's largest supplier of premium modular flooring products.