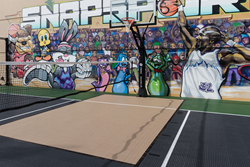 "Our team really knocked it out of the park with the new Outdoor Revolution. It has so many of our patented technologies packed into a seamless design for multi-sports play." - Jorgen Moller, CEO SnapSports
SALT LAKE CITY (PRWEB) October 12, 2018
SnapSports Athletic Surfaces announced today Outdoor Revolution, the newly engineered addition to their industry leading outdoor game court product line. Outdoor Revolution will join the successful DuraCourt® and best-selling Outdoor BounceBack® court line-up. Based in Salt Lake City, SnapSports engineers and manufactures sports flooring for indoor and outdoor courts with emphasis on superior ball play and athlete safety. The new patented Outdoor Revolution surfacing is set to be a game changer for residential and commercial outdoor courts.
"Our team really knocked it out of the park with the new Outdoor Revolution. It has so many of our patented technologies packed into a seamless design for multi-sports play. With our DuraCourt, Outdoor Revolution and BounceBack offerings in the outdoor court product options, SnapSports has the most expansive line-up," said Jorgen Moller, CEO SnapSports.
Officially launching November 1st, 2018, Outdoor Revolution features a virtually seamless sports surface appearance with a patented multi-level shock absorbing under structure. Like its predecessor BounceBack, Outdoor Revolution utilizes SnapSports patented ShockLock® technology – allowing up to 1/16" of lateral movement between modules when they are connected. This technology, unique to SnapSports products, is one of many focused on athlete safety; the lateral give allowed by the locking system can moderate hard stops offering some ease to player joints. Revolution will also be available with SnapSports ShockTower®, the only modular court with built-in shock absorbing technology providing an added level of 'cush' to players during aggressive play.
"The feedback from players of all skill levels has been tremendous. They love the consistent ball-play, all-weather traction and of course how great it feels to play on. We are confident that this 'Revolutionary' outdoor sports flooring line will be a great option for any backyard or commerical court," Moller continued.
The use of current SnapSports tile technologies are not what the only thing to set Outdoor Revolution apart. The surface and construction of the tile itself is what is sure to be 'revolutionary' to the outdoor game court industry. The surface design of Outdoor Revolution was engineered and tested for superior traction in dry or wet weather. In addition, the self-draining surface will accommodate a wide range of ball sports, exhibiting excellent ball play. Falling in the mid to low level budget, Outdoor Revolution will be an easy choice for a family backyard court, facility, church, or school yard.
Outdoor Revolution is the latest advancement in a long line of SnapSports surfaces. A part of the modular tile industry since the 1970s, the family owned SnapSports Company continues as the leading manufacturer and supplier of modular sports flooring systems for residential and commercial applications. SnapSports manufacturers 24/7 in their 100,000 square foot ISO 9001:2015 certified facility in Salt Lake City, Utah and is supported by an authorized global dealer network.