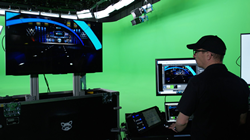 "For the past several years, the SNEAKY BIG team has been doing amazing work utilizing interactive, 3D virtual sets. Since the pandemic, we have been able to leverage our expertise to create even more virtual and remote productions across the board," said SNEAKY BIG CEO Marianne Guenther.
SCOTTSDALE, Ariz. (PRWEB) November 16, 2021
SNEAKY BIG – an Arizona-based, full-service production company – has won a Gold Davey Award in the Experiential & Immersive Virtual Reality category and a Silver Davey Award for Virtual & Remote Experiences-Media & Entertainment. The gold award recognized the company's work with the National Association of Basketball Coaches (NABC) Guardians of the Game Awards. The Silver Davey was a nod to SNEAKY BIG's partnership with NBCUniversal Syndication Studios (NBCU) for the virtual and remote production of "Judge Jerry" during the pandemic.
"We are honored to have been a trusted partner for both NABC and NBCU and give its members and viewers an incredible experience, through a virtual platform," said SNEAKY BIG CEO Marianne Guenther. "For the past several years, the SNEAKY BIG team has been doing amazing work utilizing interactive, 3D virtual sets. Since the pandemic, we have been able to leverage our expertise to create even more virtual and remote productions across the board."
For the Guardians of the Game Awards, SNEAKY BIG produced a full-scale virtual awards show, with a custom virtual set. The team also provided creative direction, graphics and post-production services to create a one-of-a-kind virtual event experience. The Guardians of the Game Awards recognize players and coaches for an outstanding season and honors member coaches for their contributions on and off the court. Despite having to go virtual in 2021, it was important that NABC's award show did justice to those being honored.
Utilizing cutting-edge technology such as Blackmagic and Unreal Engine, SNEAKY BIG designers developed a multi-dimensional, virtual sports arena environment that allowed the host, Taylor Rooks, to move seamlessly within the set. The players, coaches and honorees were brought into this virtual arena through video tribute packages, a virtual jumbotron and a custom motion graphics package.
"Teaming with SNEAKY BIG in the production of the awards show enabled us to present an event with all of the excitement that we have had in traditional, in-person years," said NABC Executive Director Craig Robinson. "The set created was spectacular and all awards and vignettes gathered were integrated perfectly with our show, resulting in a very successful event. Congratulations to SNEAKY BIG on winning a Davey Award for their work in honoring our own winning teams."
The first virtual reality studio of its kind in Arizona, SNEAKY BIG's production facility is equipped with state-of-the-art, multi-camera technology that utilizes five virtual engines with tracking technology to create a fully immersive production.
The silver award recognized SNEAKY BIG's cutting-edge work in remote production and immersive virtual set design. At the onset of the COVID-19 pandemic, NBCUniversal Syndication Studios approached SNEAKY BIG with a unique project, to help produce season two of the hit TV show "Judge Jerry" while adhering to social distancing guidelines. The key players – Jerry Springer as judge, Najee Hinds as bailiff, and the litigants – would need to be filmed in different states and merged into a virtual courtroom.
The highly skilled engineers, designers and animators at SNEAKY BIG created a stunning virtual set and, through merging five video feeds and more than half a dozen audio feeds, created a seamless courtroom experience for viewers. SNEAKY BIG was also able to provide an environment that allowed the NBCU team to produce and direct their talent remotely while working from their respective homes.
"Going virtual with SNEAKY BIG allowed us to continue producing new episodes of Judge Jerry during the 2020-2021 season, and the Davey Award for their work is well-deserved," said "Judge Jerry" Executive Producer Kerry Shannon. "It was a wonderful and unique experience to partner with SNEAKY BIG and watch Judge Jerry's virtual courtroom come to life."
Judged and overseen by the Academy of Interactive and Visual Arts (AIVA), The Davey Awards is an international award focused exclusively on honoring outstanding creative work from the best small shops from across the world. The 17th Annual Davey Awards received more than 2,000 entries from ad agencies, digital agencies, production firms, in-house creative professionals, graphic designers, design firms and public relations firms.
SNEAKY BIG encompasses more than 15,000 square feet, including two sound stages, a versatile loft, state-of-the-art control and audio control rooms, fully integrated facilities and a dedicated team of experienced producers, engineers and specialists. Onsite 3D graphic capabilities and cutting-edge technology make SNEAKY BIG one of the most highly optimized facilities in the country for virtual production. To learn more visit sneakybig.com.
About SNEAKY BIG
Located in North Scottsdale and encompassing more than 15,000 square feet, SNEAKY BIG is one of the most extensive, most technologically advanced production facilities in the nation. The studio offers a setting for live remote television productions, commercial shoots, rehearsals and recording sessions, web/media productions, press conferences, corporate training/videos, music videos, post-production and video editing, color correction, photography and events. To learn more, visit http://www.SNEAKYBIG.com.
SNEAKY BIG is part of YAM Worldwide, Inc., home to the entrepreneurial operations of Bob Parsons. Other core businesses include Scottsdale National Golf Club, YAM Capital, YAM Properties, Parsons Xtreme Golf (PXG), Harley-Davidson of Scottsdale, GO AZ Motorcycles, Spooky Fast Custom Finishing and The YAMWOOD Foundry. In 2012, Bob and Renee Parsons launched The Bob & Renee Parsons Foundation to provide hope and life-changing assistance to the country's most vulnerable populations.