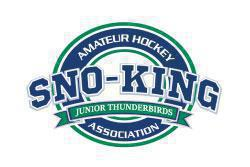 SNOQUALMIE, Wash. (PRWEB) June 05, 2019
Sno-King Amateur Hockey Association and Sno-King Ice Sports (Sno-King), the premier youth hockey association and home for ice sports on the Eastside, announced today that it is entering into a long-term lease agreement to create a new two-sheet ice arena in Snoqualmie Ridge. The new arena is currently scheduled to open in summer 2020. This project is in response to the recent National Hockey League announcement awarding a professional franchise to Seattle. This expansion will more than double the size of Sno-King, allowing the organization to meet the increased demand for ice time on the Eastside for the foreseeable future.
"Sno-King's expansion to Snoqualmie is going to add over 6,500 hours of ice time to serve the entire Eastside market and beyond for many years to come, which will be critical as we grow hockey, figure skating and adult hockey leagues throughout the region," said Dave Blanchard, executive director, Sno-King. "We are planning to add 1,600 youth and 1,000 adults to our learn-to-play and competitive youth and adult ice sports programs as a result of this new arena. We explored and exhausted many options on the Eastside and determined that this has the best potential given the location and financial structure. While we have a number of things to cross off our list as part of the planning stage efforts, we are excited to be able to officially announce our intent to build this new arena."
Sno-King is the home of ice sports on the Eastside and its youth programs are centered on building players for life, both on and off the ice through a full development focus that integrates athletics with mental skills training and healthy eating.
"Snoqualmie is a perfect fit for our new arena, as it's easily accessible by our families from around the Eastside and beyond," said Sno-King Board of Directors President Doug Corley. "Not only will it be a great location for practice and games, it will also be a great place to attend tournaments and camps thanks to the many restaurants, hotels and activities near the site location. It will meet our current demand for ice time and allow us to meet future demand as more people get on the ice in the years to come. We're grateful to the Razwick family for working with us on this project and can't wait to see it come to life. We'd also like to thank the City of Snoqualmie for their ongoing cooperation as we develop plans for the arena."
The arena construction will start in summer 2019. The site location is at 35300 SE Douglas Street in Snoqualmie Ridge. The developer, the Razwick family, former owners of Technical Glass Products, have a desire to give back to the Snoqualmie Community and share a common vision for youth development with Sno-King. Sno-King will lease the property as the sole tenant starting in 2020. The design / development team is led by local development expert Terra Vall-Spinosa. This team shares the family's commitment to the community and includes Nelson Architects, Northway Construction and Kidder Mathews (Dave Bernard and Zach Vall-Spinosa). Sno-King's team includes HTG Architects and Gausman & Moore from Minnesota along with Rosen Harbottle (Caleb Farnworth and Jerry Harbottle), Keller Rohrback and Columbia Bank.
"Supporting Sno-King by providing a building for their new home in Snoqualmie is one way we can contribute to the community," Jeff Razwick said. "This will be a huge benefit to local youth and adults interested in hockey and figure skating, and the new arena will provide the ice space needed for everyone to get out there and skate."
"The City of Snoqualmie is excited to play a part in the growth of hockey in Washington state and we are honored to officially welcome Sno-King to our community," said Snoqualmie Mayor Matt Larson. "As a former hockey player myself, I know that this new arena will be an incredible community asset, providing more access to recreation space and an opportunity for our local businesses to thrive with more visitors."
"NHL Seattle is thrilled to see Sno-King expanding into Snoqualmie," said Tod Leiweke, CEO of NHL Seattle. "The future arrival of the NHL into our area is already generating increased interest in ice hockey and figure skating programs on a regional level, and we are pleased to see local partners like Sno-King rising to meet this demand."
The funding of the new arena will come from several sources, including a mix of fundraising components and corporate sponsors. The Sno-King leadership is actively seeking sponsors for the new arena. These partners will be announced at a later date.
About Sno-King
Sno-King Amateur Hockey Association (SKAHA) and Sno-King Ice Sports (SKIS) are nonprofit entities that serve as the home of ice sports on the Eastside. SKAHA's mission is Building Players for Life, and its 250+ volunteers help kids ages 4 to 18 to develop both hockey and life skills. SKIS serves the broader community by offering learn to skate, figure skating and adult hockey league programs as well as public access for recreation and gatherings.
To learn more, visit the Sno-King Amateur Hockey Association, Sno-King Ice Arenas and Sno-King Snoqualmie online, or watch the Sno-King Overview Video.
To register for youth and adult Learn to Play programs visit snokinghockey.com/learntoplay.
For more information on Sno-King's fundraising efforts visit snokinghockey.com/donate.
Media Contacts
Emi Hashisaki or Aaron Blank
Fearey for Sno-King
snoking@feareygroup.com or 206-343-1543