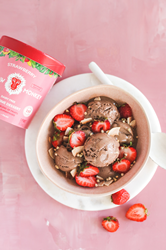 We want to show people that when you fuel yourself mindfully, anything is possible.
LOS ANGELES (PRWEB) June 02, 2021
Snow Monkey is proud to unveil partnerships with five prestigious female athletes to further the brand's mission of mindful indulgence. These five women are powerful examples of how fueling your body mindfully can allow you to excel in your everyday life, and how your diet can help you continue to advance toward the best version of yourself. Snow Monkey is thrilled to celebrate these women who are unapologetically the best at what they do and display how its plant-based ice cream helps them to do just that.
These five women are Orlando Pride & US Women's National Team Goalkeeper Ashlyn Harris; Professional Surfer in the World Surf League Courtney Conlogue; Professional Surfer in the World Surf League and Costa Rica Representative in the Tokyo Olympics Brisa Hennessy; Professional Swimmer, USA National Team Member and Tokyo Olympics hopeful Mallory Comerford; and Professional Sailor for US Sailing and US representative in the Tokyo Olympics Anna Weis.
"Sport has always been front and center in my life and what ultimately drove me to take a greater interest in the foods I was consuming to power my body. So, having these women not only as brand champions, but also partners in the company, helps take Snow Monkey back to its athletic roots," says Rachel Geicke, Snow Monkey founder and CEO.
Snow Monkey was founded by Geicke, who took great interest in fueling her body as part of her training regimen for competing on Boston University's D1 Rowing team. When Geicke was also diagnosed with Celiac Disease during her time at BU, she found herself struggling to sate her indulgent cravings and with food that was both nutritious and safe for her to eat. Like a true athlete, she refused to accept defeat, and made an ice cream alternative using bananas, hemp protein powder, and other superfood ingredients she had access to. Her creation became popular among her peers, and soon found herself turning her focus from breaking barriers on the field (well, on the Charles) to breaking barriers in the frozen aisle.
Alongside their athlete partners, the brand has launched the Go Fuel Yourself campaign, which is centered around demonstrating the importance of fueling your body mindfully, and how these women are able to utilize Snow Monkey to achieve greatness. Harris, Comerford, Weis, and Conlogue have featured in day-in-the-life spots, which showcase how Snow Monkey can be enjoyed around practices, with friends, or even as a quick, nutrient-packed breakfast. Hennessy's spot is upcoming and will continue to display how Snow Monkey helps power her through all aspects of her life, both in and out of her sport. Snow Monkey has also curated a Spotify playlist to accompany this initiative, so aspiring athletes and gym enthusiasts have something to listen to as they train.
"We want to show people that when you fuel yourself mindfully, anything is possible," says Geicke, "But that doesn't mean you have to give up your favorite indulgences, like ice cream. There are plenty of options out there that provide your body with the nutrients it needs and the deliciousness it craves. Snow Monkey is one of those options. It's the perfect way to have your pint and eat it, too."
Snow Monkey's Dairy Free Anytime Desserts are made from plant-based, Non-GMO Project verified ingredients, and are made with a base consisting of only fruits, seeds and superfoods. Their flavors consist of staple favorites like Strawberry, Chocolate, Vanilla, and Mint Chip alongside some more unique offerings like Matcha Green Tea, Acai Berry, Passion Fruit and Maple Cinnamon. All of their plant-based ice cream alternatives are all-natural, paleo, allergen friendly, and packed with 20+ grams of plant-based protein per pint, making them the perfect indulgence for the entire family at any time of day. These pints are available across the United States in retailers such as Sprouts and online, where customers receive free shipping on all orders over $25.
Created by female athlete, Rachel Geicke, while on a mission to indulge more mindfully, Snow Monkey Dairy Free Anytime Desserts are a creamy blend of only fruits, seeds and superfoods, making them healthy enough for breakfast (yes, we said breakfast), workout fuel or anytime indulgence. Not only is each pint filled with flavor and deliciousness, but is also vegan, paleo, packed with over 20g of plant-based protein per pint, and allergen-friendly. Think ice cream, but great for you!
To learn more visit snow-monkey.com, follow us on Instagram, or like our Facebook page.