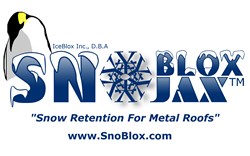 Highlighted in the video are the most effective methods of installing Snow Guards. - Howie Scarboro
Mechanicsburg, PA (PRWEB) August 19, 2013
SnoBlox-SnoJax announces its newest installation video. Howie Scarboro, National Sales Manager of SnoBlox-SnoJax Inc. states, "proper installation of snow guards starts with a professional layout from our estimating tool at SpacingTool.com." Howie continues, "If the snow guards are installed according to the layout and instructions, they are covered by the companies lifetime replacement guarantee against product defects." Highlighted in the video are the most effective methods of installing Snow Guards. Installation of Adhesive Mounted, Screw Down and Peel and Stick Snow Guards on a Metal Roof are all covered. The video includes instructions for mechanical attachment with #14 galvanized screws and with adhesive. Mr. Scarboro continues, "This is the best time of the year to install with adhesive since it requires warm weather. " SnoBlox-SnoJax developed and patented the world's first polycarbonate snow guard in 1976 and continues to be the leader in glue down and screw down snow guard systems. For more information please visit the http://snoblox-snojax.com/ website.
About SnoBlox-SnoJax
The late Jack McMullen was the founder and inventor of the first polycarbonate snow guard in 1976. He invented and patented the product out of necessity for his own metal building business. Having grown tired of receiving complaints when the metal snow guards he installed would rust, break and leave stains on the roof, he thought of a better solution, thus the SnoJax product line was born. Today, more than 30 years later, the family has continued the legacy set forth by Jack McMullen. IceBlox, Inc., d.b.a. SnoBlox-SnoJax is an award winning, nationally recognized supplier whose predominant business is snow retention.
Howie Scarboro
National Sales Manager
http://snoblox-snojax.com/
Internet Presence Management services such as search engine optimization and press releases, offered by Image Forward.
About Image Forward
Image Forward, a digital marketing agency, helps our clients to drive revenue by leveraging and building audience engagement through the use of proprietary tools including a high recognition local SEO directory system (if-Places) containing over 105,000 local business listings & automated social content distribution system (if-Social). The company provides turnkey Internet Presence Management Solutions to improve brand visibility by establishing a local search presence & publishing high value content to social portals.
Link to website:
http://www.ImageForward.com
###